The CVR is activated when the CVMA receives a request from an authorized Requestor.
In the event of a foreign animal disease (FAD) emergency in Canada the request would come from the CFIA. For other types of emergencies in Canada, the request would come from a provincial or territorial government or one of their authorized agencies. Once a request for CVR activation is received by the CVMA, the CVMA initiates its CVR Call Up Process.
Call Up Process Overview
The CVR contacts Members primarily via e-mail. In an emergency, CVR Members will receive a CVR Call Up Notice from the e-mail address reserve@cvma-acmv.org.
CRITICAL INFORMATION: Your email is the CVR's main link to you in an emergency.  Please ensure that:
Your email is up to date at all times in your CVR profile (here).
Your email is accessible from your mobile phone so that urgent CVR communication is received promptly.
The email address reserve@cvma-acmv.org is added to your contacts list so it doesn't go to spam folder.
A CVR Call Up Notice initiates a process.  It is not a request to deploy to an emergency response. The Call Up Notice is primarily to identify those CVR members who are available to serve in the type of emergency that is happening and for the dates proposed.  There are a number of emergency notices that may follow a Call Up Notice (i.e. a request to deploy, a request to stand by, a request to stand down, etc.).  Each emergency notice is designed to inform the CVR member of the current situation, the emergency they are being asked to serve in or the action they are being asked to take, the terms of service (i.e. dates, remuneration, insurance etc.), and what is expected of a CVR member in serving in this particular emergency.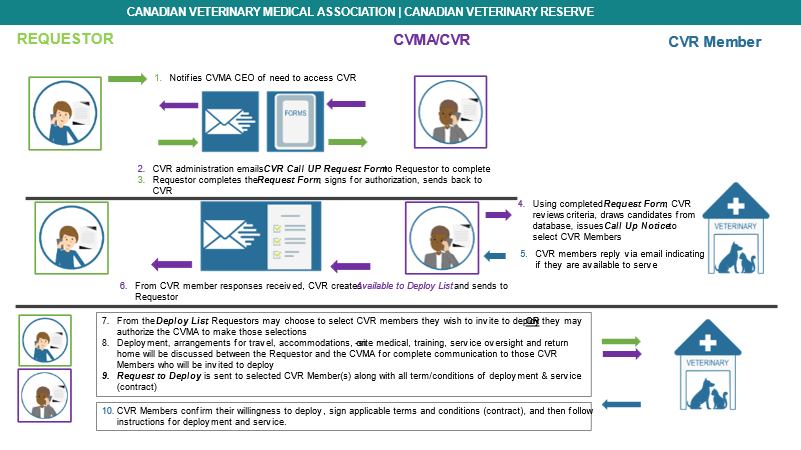 Available to Serve List 
Those CVR members who indicate their availability to serve in an emergency response will have their names placed on the Available to Serve List.  The Requestor then determines how many CVR members they will choose from the List.  Choices are made based on needs, experience, specialties, geographic location (i.e. closest to response area), etc.
Request to Deploy
The next step after the Available to Serve List is prepared would be a possible request to deploy.  The Requestor may reach out directly to CVR members to confirm and arrange deployment or they may ask that CVR program administration contact CVR members on their behalf.  In the event of a request to deploy, all information that the CVR member may need regarding travel, accommodation, expenses, what to bring, what to take care of at home, etc. would be provided to the CVR member in the form of a deployment package.
Deployment
A CVR member is considered "deployed" from the time they leave their domicile to serve in the emergency, until the time they return to their domicile immediately after emergency service is completed.  During the time of "deployment" CVR members come under the direction and responsibility of the Requestor who will direct the work of CVR members and take care of day to day needs and scheduling.  Most Requestors will operate under the standard Incident Command Structure/System.