Dog Importation
The Issue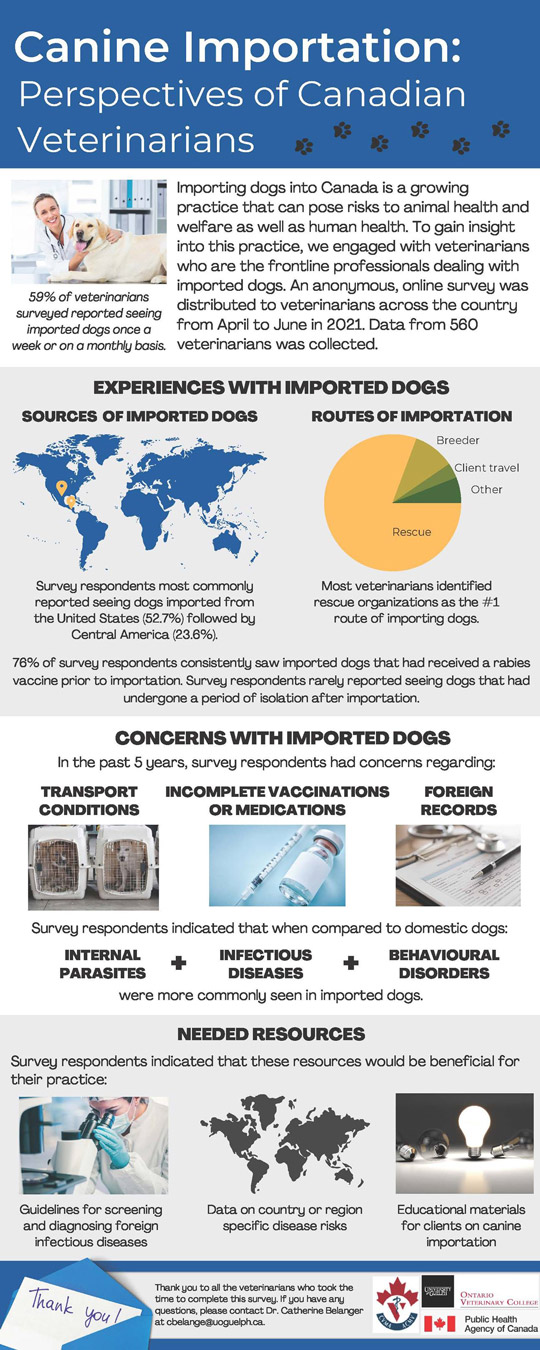 A large number of companion animals, mostly dogs, are imported into Canada every year from countries where public health, animal disease and animal welfare standards may differ from Canada's.  With the exception of a modest number of federal regulatory requirements [e.g. vaccination for rabies for some categories of animals) the importation of dogs is largely unregulated and therefore the potential exists for introduction of diseases that could threaten human and animal health in Canada and for the transported animals to experience transported related harm
Why it Matters
Imported dogs may carry diseases, including some that are not found in Canada. These diseases, including viruses, fungi, bacteria and parasites may go undetected at or before the border and risk human health (including for new owners), as well as animal health and welfare.  Diseases that have been brought in by imported dogs include tick-borne diseases, canine brucellosis, leishmaniasis, canine influenza, rabies, alveolar echinococcosis, canine heartworm, canine lungworm, and screwworm. Additionally, animal welfare issues may arise from transporting animals – either due to stress of transport in poorly selected (lack of socialization, or other behavioural issues) or inadequately prepared animals that are otherwise healthy.  Transport in the case of animals that are suffering from pre-existing disease or various other health issues can be extremely harmful.  
CVMA Action
The Canadian Veterinary Medical Association recognizes that education is a key element in the effective management of disease risk from importation of dogs and from the transboundary movement of dogs within Canada. 
In review during 2022: CVMA Position Statement 'Importation of Dogs into Canada'.
In 2021: collaborated with the Ontario Veterinary College and Public Health Agency of Canada (PHAC) to engage with veterinarians dealing with imported dogs. A survey of  Canadian veterinarians was conducted to better understand the landscape of dog importation in Canada. Data collected can be found in the 'Canine Importation: Perspectives of Canadian Veterinarians' infographic. 
In 2020: issued a media release calling on the federal government to implement stricter canine importation requirements 
In 2018: Wrote to the Chief Public Health Officer of Canada to express concerns regarding the risks to animal and public health from dog importation into Canada. Read the letter here.
In 2016: Participated in the Canadian Canine Importation Working Group (read the final report here), developed the CVMA Position Statement 'Importation of Dogs into Canada' and hosted the CVMA National Issues Forum 'Importation of Dogs into Canada' during the 2016 CVMA Convention. 
In 2017, organized a national Ad Hoc Working Group on Dog Importation with participation from the CVMA's National Issues and Animal Welfare Committees, provincial veterinary organizations, Humane Canada, the Canadian Kennel Club, provincial and federal government agencies including the Canadian Food Inspection Agency, and a canine rescue organization.
Developed a tool for veterinarians, the 'Veterinarian's Dog Importation Checklist', designed to promote excellent communication between veterinary practitioners and clients with respect to risk management around dog importation. This and other resources for veterinary teams are available in the collection of CVMA Practice Tools. Visit Canine Importation for more information. 
Resources for pet owners can be found in the 'Selecting and Owning a Pet' section of the CVMA website.

March 2022