Each year, the CVMA proudly recognizes veterinarians, veterinary teams, and student veterinarians for their outstanding contribution to veterinary medicine. The 2024 CVMA Awards will be delivered at the Awards Gala on Wednesday, June 26 during the CVMA Annual Convention in Calgary, Alberta. Nominations for the 2024 CVMA Awards are now open and will close on Wednesday, January 31, 2024.
NOMINATE A DESERVING COLLEAGUE NOW
View past award recipients
Honourary Membership is presented to an individual who has rendered distinguished service to the profession, whether residing in Canada or elsewhere. The Honourary Member does not pay fees and cannot vote at meetings, or hold any elected office in the CVMA.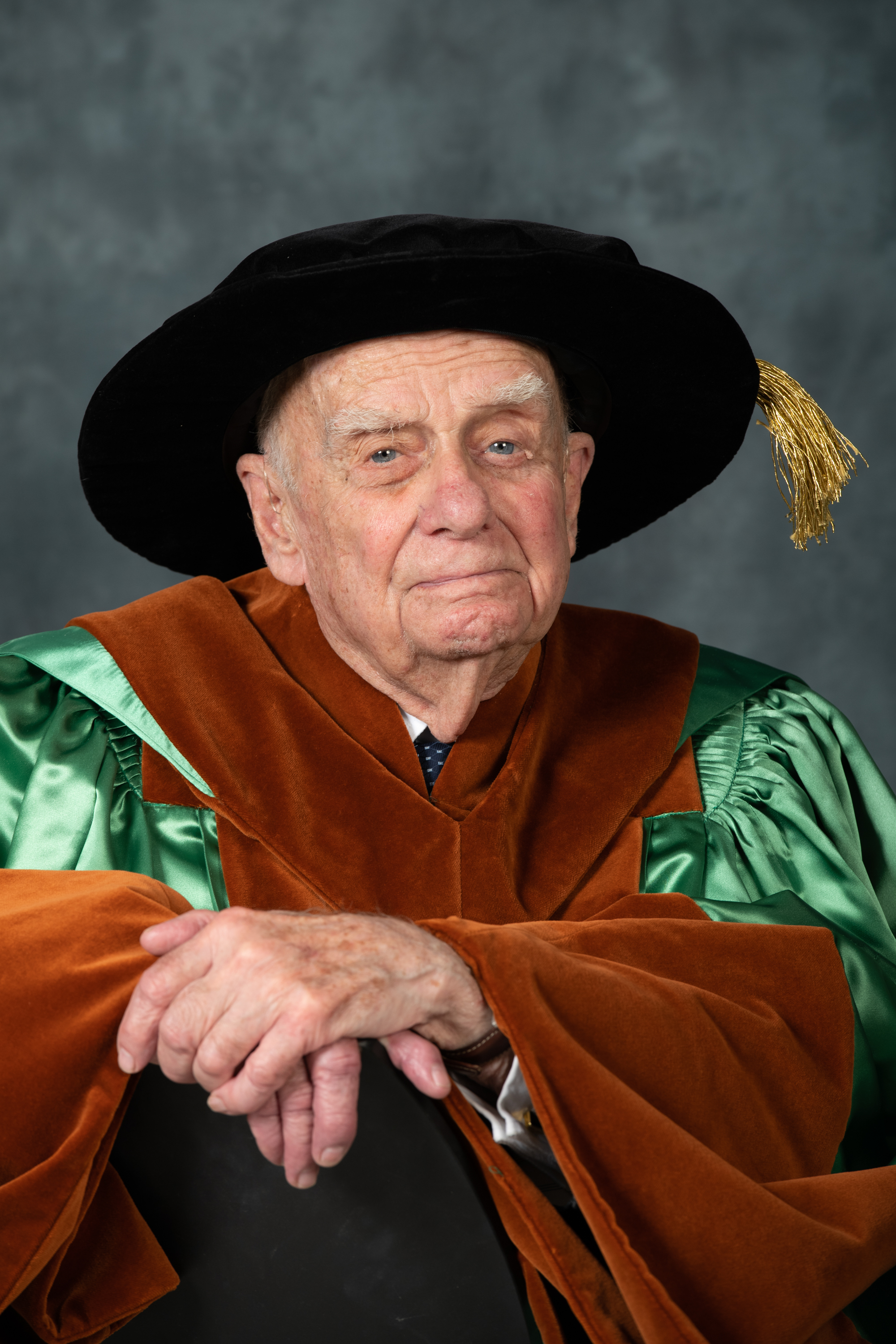 2023 Recipient:
Dr. Roger Warren
Dr. Roger Warren began his successful career as an investment banker and manager in Toronto. He then spent eight years working in New York, London and the UK.
In 1979, Dr. Warren, and his wife Mary, who passed away in 2018, established the Rathlyn Foundation to better society and enrich lives by investing in medical education, research, and veterinary science.
The Rathlyn Foundation's support has had far reaching impacts:
At AVC, the Rathlyn Foundation has supported the Chinook Project, major equipment. and countless scholarships.
At McGill University, the foundation has supported a number of scholarships in different faculties including one for Indigenous students.  
At OVC, Dr. Warren's support was essential to establishing the OVC Pet Trust, the creation of new endowments, guidance on governance best practices, and several new initiatives.
Working towards a better future for animals, students, and institutions, Dr. Warren has embraced his role in contributing to that future. "Perhaps because I did not have the typical university path, I am all the more interested in investing in students …. They are the future of Canadian society."
Established by the CVMA in 1986, and sponsored by Merck Animal Health, this award recognizes leadership in the care and well-being of animals. The award, which consists of $1,000 and a plaque, is presented to a CVMA member whose work is judged to have contributed significantly to the welfare and well-being of animals.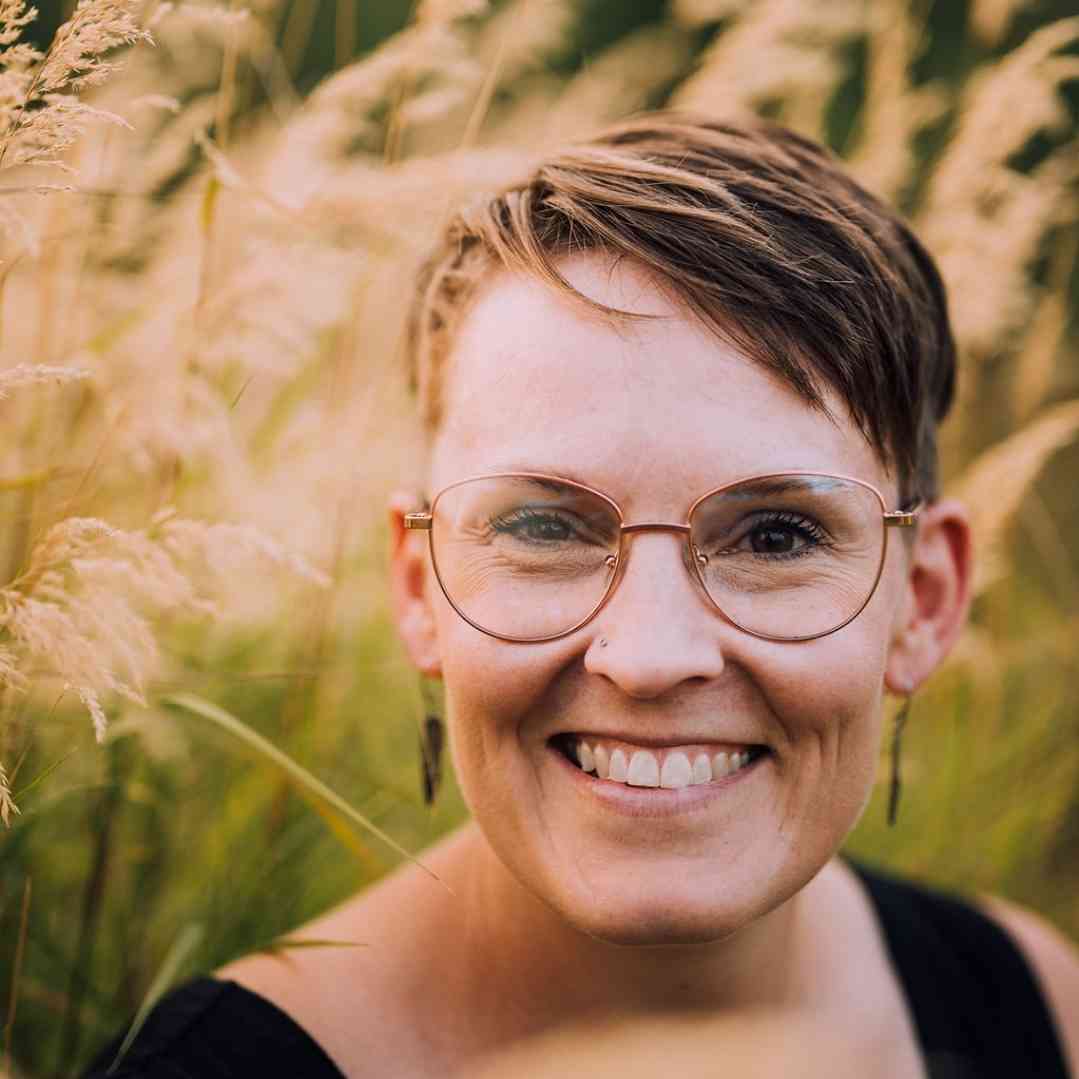 2023 Recipient:
Dr. Jordan Woodsworth
Dr. Jordan Woodsworth is a general veterinary practitioner, PhD candidate, and program lead for the Western College of Veterinary Medicine's Northern Engagement and Community Outreach Program. She is a 2008 graduate of the WCVM and joined the staff of the WCVM in 2012 to start the Wellness and NECO programs. Jordan's professional interests include community engagement and social accountability through an anti-racist, anti-oppressive lens; clinical communications; interprofessional work in One Welfare; and culturally safe approaches to fostering and sustaining human-animal bonds. Jordan's work in Northern Saskatchewan is an area of true passion, and she strives to use her role as a veterinary educator to provide opportunities for veterinary learners and practitioners to develop and practice culturally safe approaches to veterinary care. Her personal interests include lake time with her husband, 2 kids and dog; travelling and enjoying nature; crafting; and eating and cooking amazing food. 
Instituted in 1996, the CVMA Industry Award publicly acknowledges and celebrates the role of industry in veterinary medicine. The award formally recognizes a CVMA member for their contributions to the advancement of veterinary medicine.
2023 Recipient:
Award not presented in 2023.
The CVMA Distinguished Member Award is presented to a CVMA member for long and outstanding service on CVMA Council, Executive, Boards and Committees, or for outstanding contributions to the veterinary profession. The Distinguished Member is presented with a framed certificate and shall be invited to attend meetings of the association, and shall not be liable to pay dues, but shall enjoy all the rights and privileges of membership. Please note: The Life Membership Award was renamed The Distinguished Member Award at the end of 2022.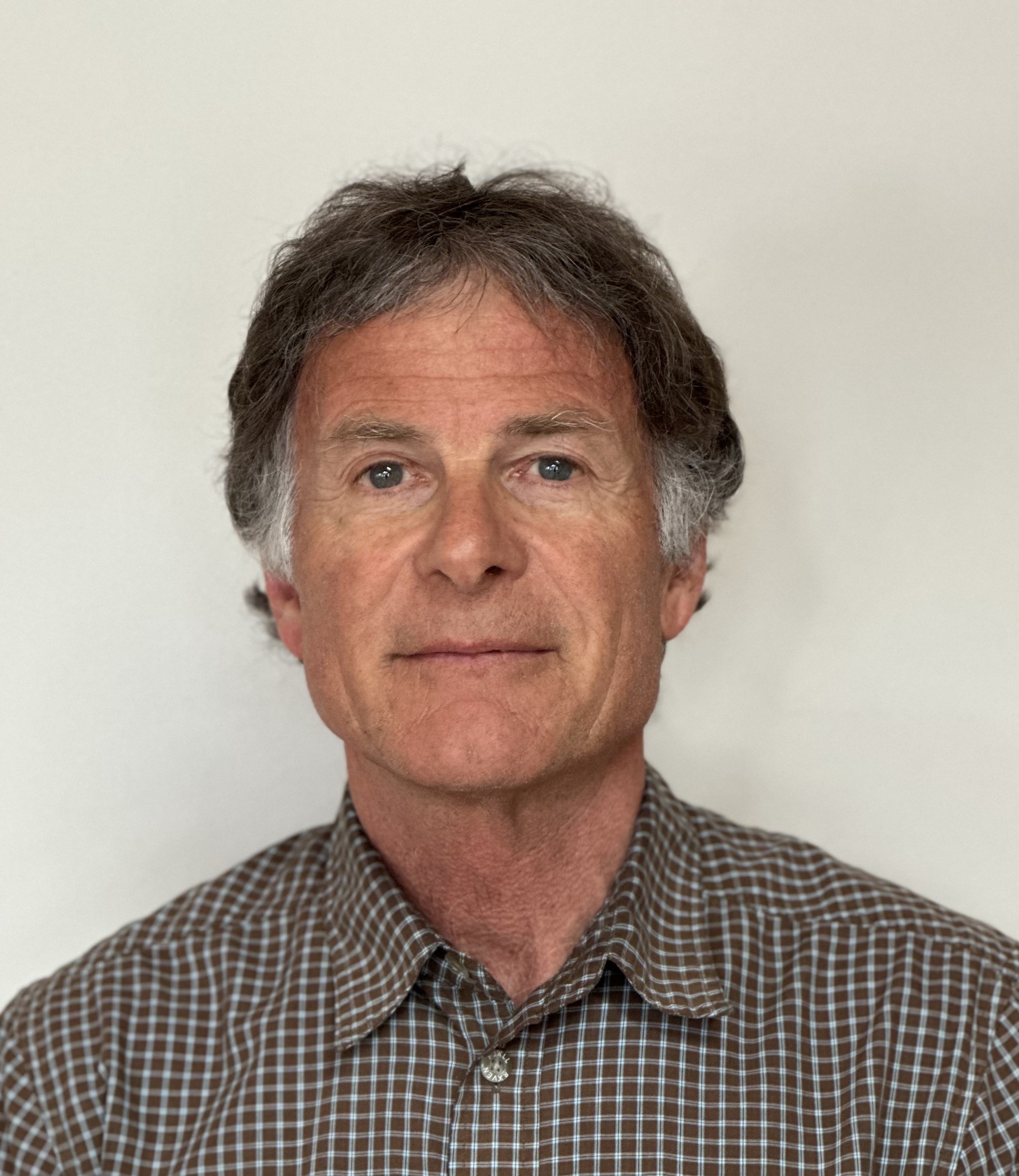 2023 Recipient:
Dr. Robert Ashburner
Established in 2013, the Practice of the Year Award consists of $1,500 and a plaque and is sponsored by Scotiabank, a leader in banking services for professionals. The award recognizes a veterinary practice team for outstanding achievement within their local community. Such achievements may include innovations in provision of veterinary services, commitment to work-life balance, meaningful community or charitable involvement, or implementation of 'green' practice procedures.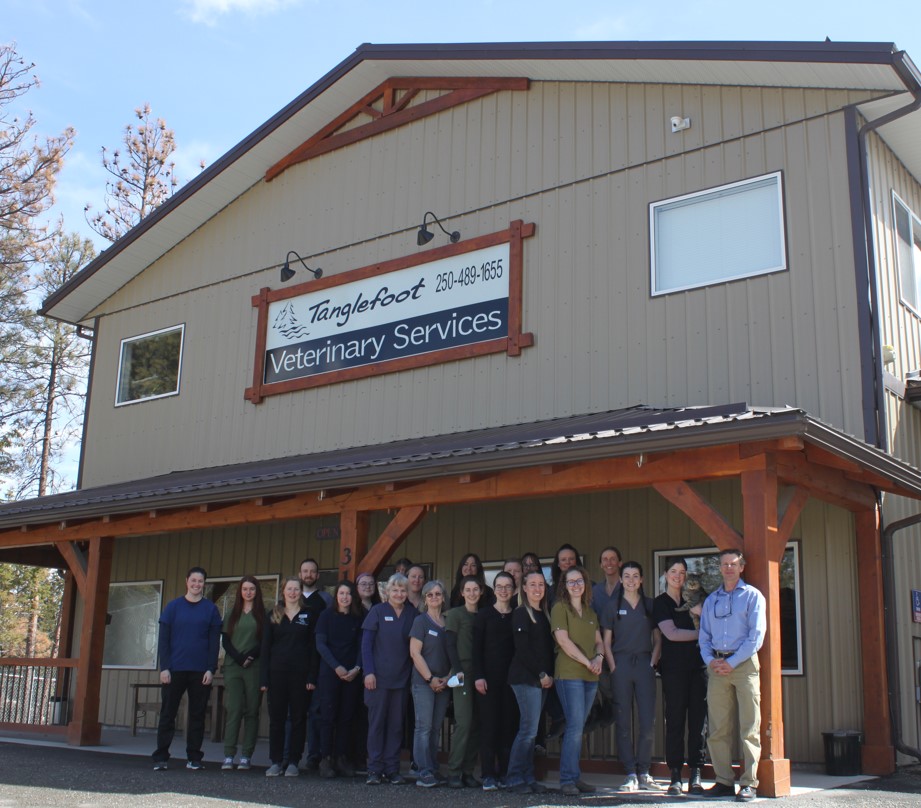 2023 Recipient:
Tanglefoot Veterinary Services Ltd.
Originally founded in 2009, Tanglefoot Veterinary Services Ltd. is a progressive, full service, mixed animal practice in the East Kootenay region of British Columbia.
Tanglefoot has grown to be a clinic with seven doctors and 22 support staff, including seven full-time RVTs. In addition to quality patient care, Tanglefoot has an unfaltering commitment to their local community, creating work-life balance for their team, and working towards a sustainable future for the veterinary community.
In 2022, Tanglefoot initiated the formation of the East Kootenay Vet Group (EKVG) which consists of a group of 7 local clinics that share after-hours emergency call. This has greatly improved quality of life for all doctors in the area as the strain of after-hour emergencies is now shared.
Tanglefoot is committed to playing an integral role in the development of future members of the veterinary community. Since 2018, Tanglefoot has hosted 42 veterinary, RVT and other students for internships, externships, practicum placements and summer positions. Tanglefoot is also community-focused, including support of their local 4H club, providing veterinary services for rodeos, and supporting several small animal rescue organizations in the area.
The CVMA President's Award is periodically bestowed to recognize an individual member for his/her exceptional contributions and devotion to the association. Recipients are selected by the President and the CVMA Executive Committee.
2023 Recipient:
Dr. Darrell Dalton
Dr. Darrell Dalton was born and raised in Calgary, Alberta where he developed a strong passion for horses. He attended the pre-vet program at the University of Alberta and graduated from WCVM in 1980.  He immediately opened a solo standardbred racetrack practice. In 1986, he moved to Red Deer, AB to establish a general equine practice. The practice had a strong emphasis on equine reproduction until its closure. He joined the Council of the ABVMA in 2005 and achieved the position of Vice President, later joining the staff of the ABVMA in 2007 as the Assistant to the Registrar. Eventually, he became Registrar in 2013 and remained so until January, 2023.
As Registrar, he was a strong advocate for the CVMA. He negotiated the financial arrangements between the ABVMA and CVMA for Alberta's organizational membership. He was closely involved in the establishment of the Canadian Council of Veterinary Registrars and spent two terms as the Chair. He strongly advocated for inclusion of RVTs as full voting members of the ABVMA, which occurred in 2017, and continues to advocate for this to occur on a national level.
The CVMA Student Leadership Award, instituted in 1966, consists of a plaque and a monetary award presented annually to a 3rd-year veterinary student at each of the Canadian veterinary colleges. The recipient is selected by their classmates based on their leadership and achievement in student affairs.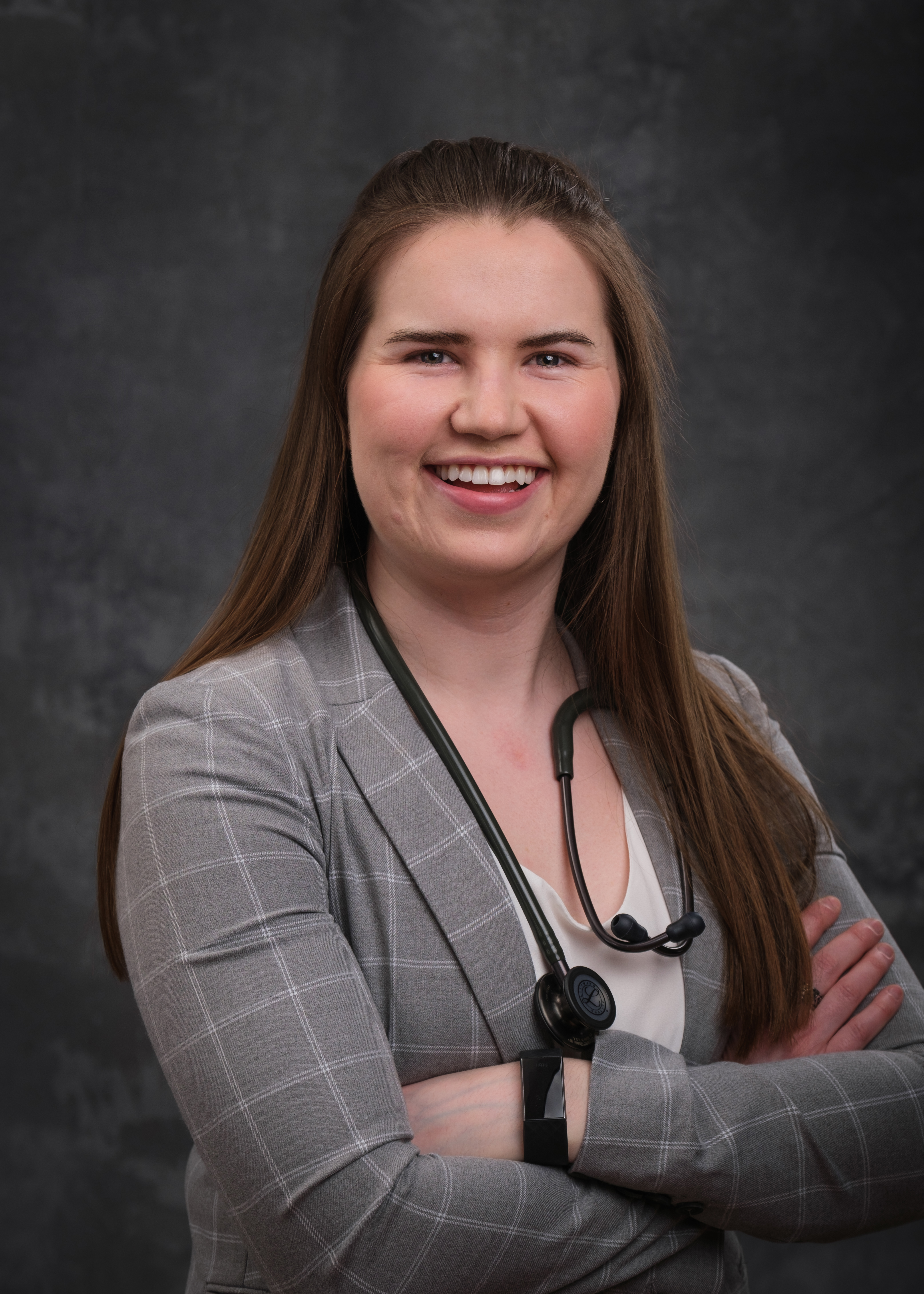 Kasadee Allan
Kasadee Allan has always had a passion for leadership and being chosen for this award, especially because it is selected by her peers, means a lot to her.
Born and raised in rural New Brunswick, she is the youngest of 5 children, all of whom learned a strong work ethic at an early age while working on their father's seed potato farm. She followed her love of farming to the Dalhousie Agricultural Campus, where she earned a Bachelor in Agriculture, majoring in Animal Science. After a 2-year hiatus, she decided to return to school at Atlantic Veterinary College (AVC). She has had the privilege of being involved in the close-knit AVC community through the Society of Atlantic Veterinary Students, her class Executive Committee and other clubs.
She plans to return to New Brunswick and become a large animal general practitioner, at least for now. Continuing her education may bring her back in a few years. She looks forward to being a part of her next community after graduation.
Outside of veterinary medicine, Kasadee enjoys playing sports with her friends, especially basketball, quoting movies with family, and performing stand-up comedy.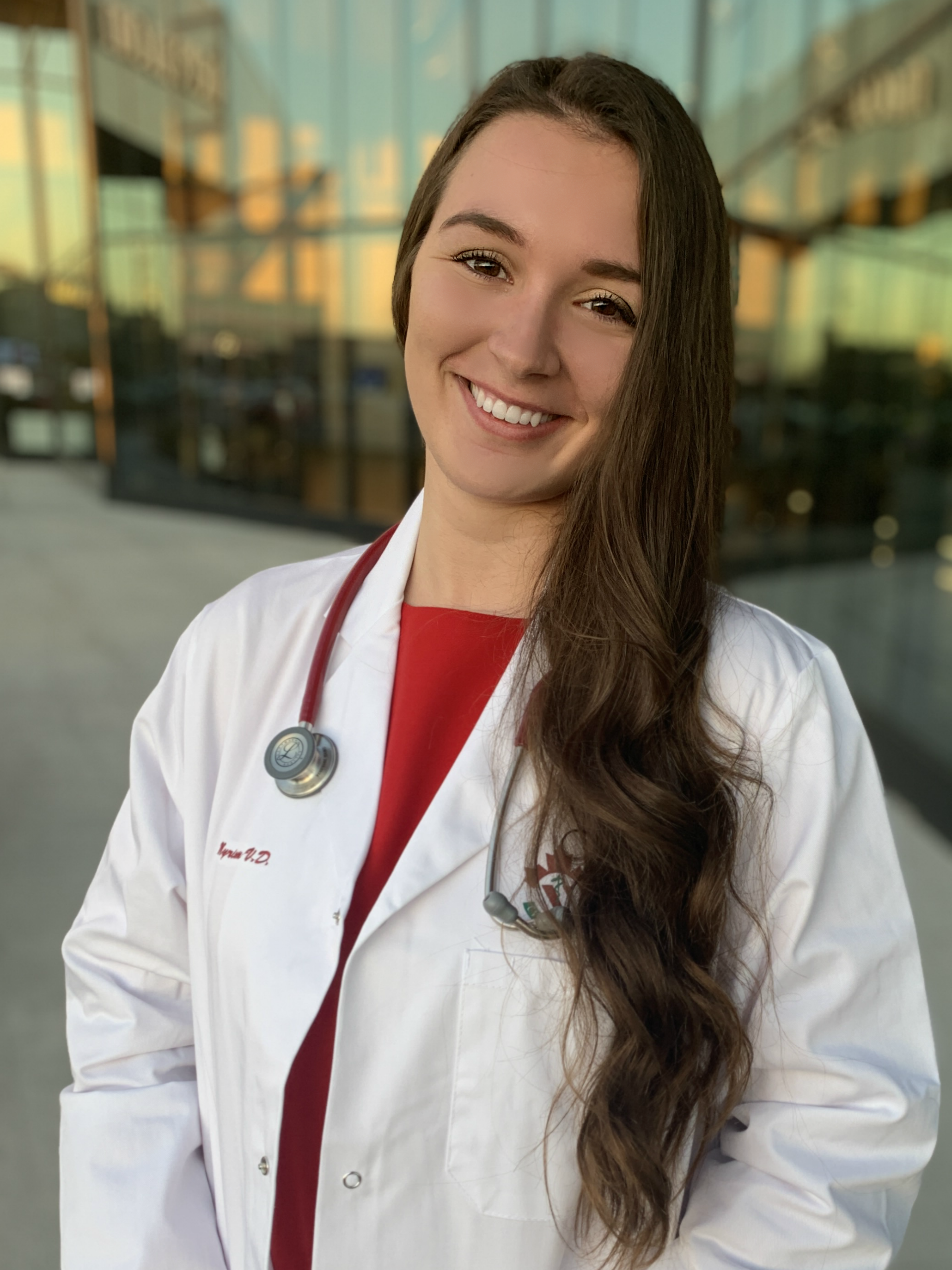 Myriam Verge Delisle
Myriam Verge Delisle is a 4th year student at the University of Montreal's Faculté de médecine vétérinaire in Saint-Hyacinthe (FMV).
She grew up in the countryside with horses, Bernese Mountain dogs and 2 lamas. After persevering to get admitted to veterinary school, she feels like she is in the right place to pursue her dream. Myriam got involved right away in her first year as the academic delegate of her class and is now an Academic Affairs Coordinator for the Student Association. Helping others has always been something important for her and this is why she keeps volunteering at school and is always available to listen to her colleagues' academic or personal concerns. This led her to be involved in various academic committees, as well as a project creating a new veterinary campus in Rimouski, Quebec.
Myriam is on the board of the Quebec Association of Equine Veterinarians and is also President of the Equine Club of her school, which allows her to organize activities and conferences. She has also been working for more than 3 years at the equine hospital in Saint-Hyacinthe and has participated in large animal externships. Her interest in small animals also led her to join a veterinary clinic in her area. For many years, Myriam has been involved in the Bernese Mountain Dog Club of Quebec to help the health and well-being of those dogs, as well as organizing health veterinary clinics in ophthalmology and cardiology for all breeds, with the objective of helping prevent genetic diseases.
All those experiences allowed her to evolve, and she intends to stay involved in various fields while completing her degree and exploring many areas of veterinary medicine. She sincerely thanks the Canadian Veterinary Medical Association and her colleagues for this award.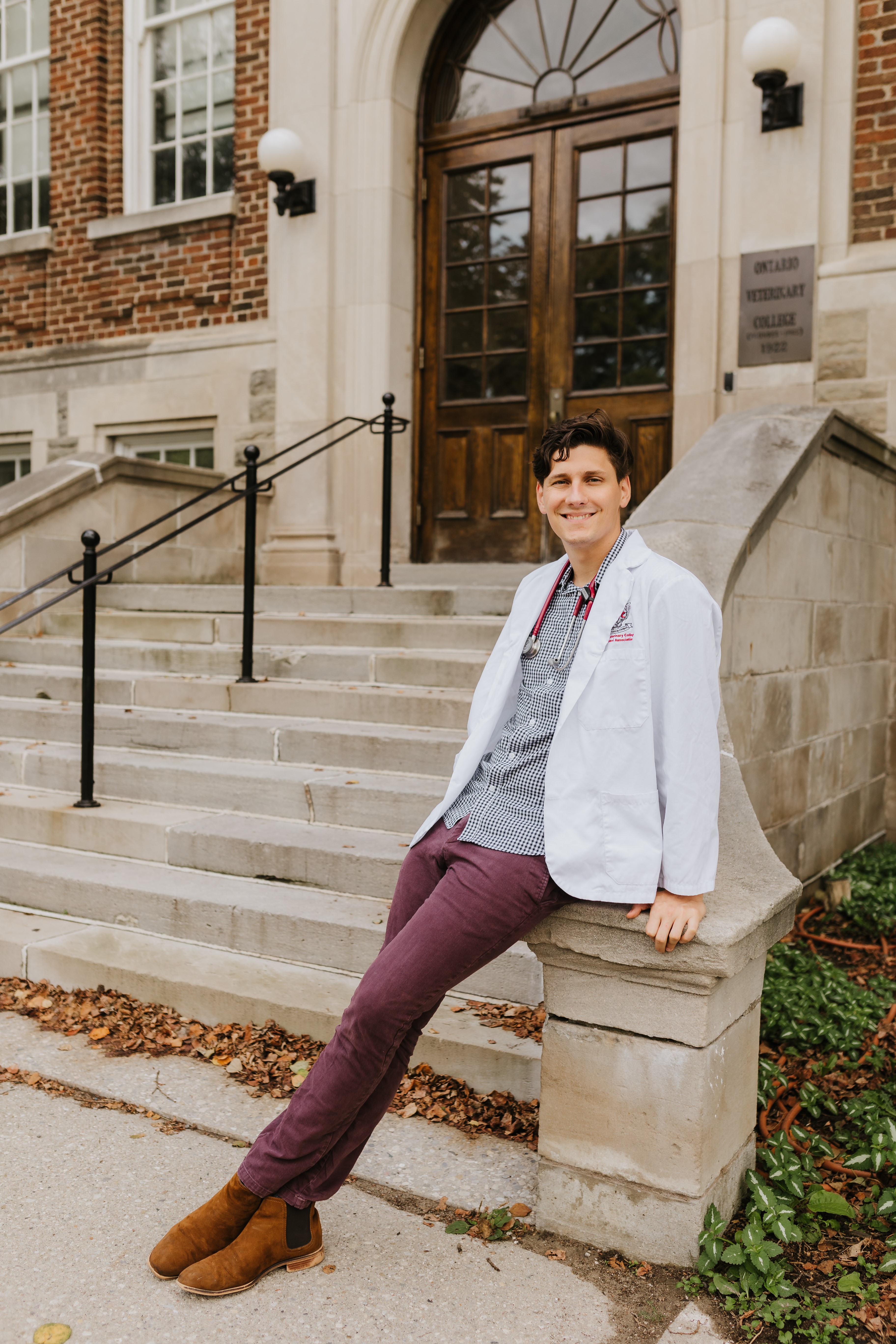 Brent Carbone
Brent Carbone is in his 4th year at Ontario Veterinary College (OVC) where he is specializing in small animal medicine with a focus on emergency medicine. Brent is originally from Buffalo, New York, but chose to attend OVC because of the rigor of the classes, as well as the close-knit community and class that is fostered at OVC.
He is the Co-President of the Class of 2023 and believes that it is because of his work to make everyone's 4 years as productive and memorable as possible that his peers nominated him for this award.
The class of 2023 (The Opal Otters) makes him proud every day and he is amazed at how far they have come in just 4 years as they will soon be treating animals from around the world.
Brent feels incredibly fortunate to have been chosen by his peers for the CVMA 2022 Student Leadership Award.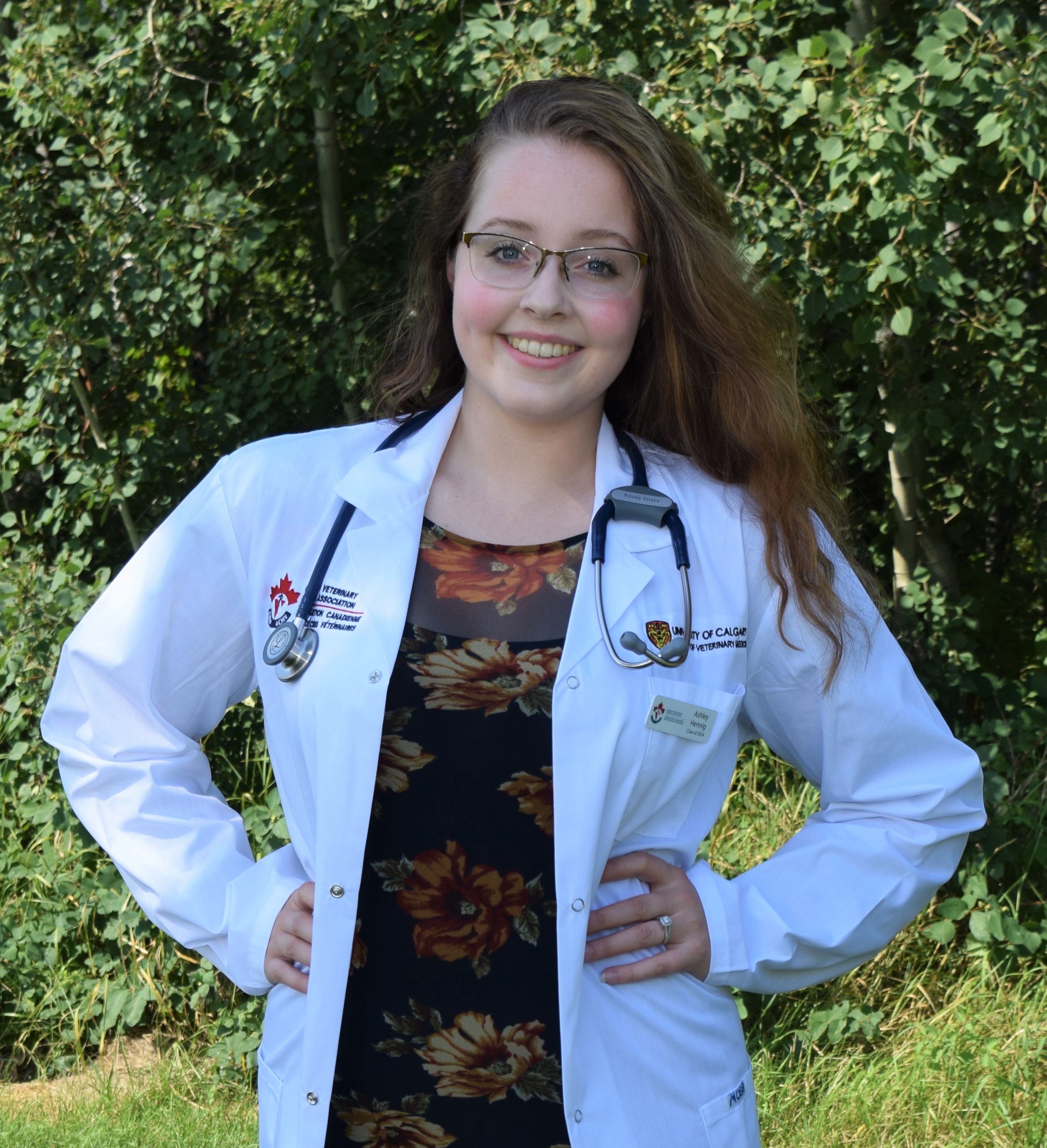 Ashley Finch
Ashley Finch grew up in Edmonton, Alberta and is currently in her 3rd year of studies at the University of Calgary — Faculty of Veterinary Medicine (UCVM).
She started her journey into veterinary medicine in high school working for a local small-animal practice. In her free time, Ashley joined the administrative team of an animal rescue with the small mammals and exotics division where her passion for exotics and pocket pets flourished.
She has continued to be an active animal rescue volunteer for the past 7 years taking part in animal fostering, public outreach, and school education programs. Ashley is excited to experience and contribute to the evolution and growth of exotic medicine.
Ashley started her studies with a BSc in Animal Health at the University of Alberta before moving to Calgary to pursue veterinary medicine. At UCVM, Ashley took on the role of Vice President and now Class President for the Class of 2024; she values this role as it is a way to advocate for positive change and helps support her classmates in voicing their suggestions and concerns. While exploring her passion for emergency medicine, Ashley became treasurer for the SVECCS (Student Veterinary Emergency & Critical Care Society) club. Throughout her education, Ashley has continued to pursue her interest in emergency medicine and works as a surgery technician assistant.
In her free time, Ashley loves to spend time at the barn with her Warmblood horse, Ice. After graduation, she hopes to pursue a small animal rotating internship and will continue to be an active member of the rescue community.
Charlie Wyatt-Swain
Charlie Wyatt-Swain is a 4th year vet student at the Western College of Veterinary Medicine (WCVM). She currently lives in Saskatoon, Saskatchewan with her husband, their daughter, and their dog. Charlie is Inuit-Metis from the NunatuKavut community in Labrador and is particularly interested in how we can better assist remote Indigenous communities in regard to veterinary services and dog management. She enjoys working with organizations such as Canine Action Project to promote healthy dogs and healthy communities.
Charlie has many roles at the WCVM including being Co-President/Co-Founder of WCVM DIVERSE, C/O 2023 Indigenous Representative, and WCVM Committee on Indigenous Engagement Student Representative. Her work has led to receiving awards such as the Diversity, Equity and Inclusion (DEI) Rising Leader Award from the Multicultural Veterinary Medical Association — MCVMA, an international organization that supports diversity within the veterinary profes-sion. She is also involved in organizing events at the college such as Ribbon Tying Ceremonies to share support for Truth and Reconciliation and hosting panels such as "Indigenous Animal Welfare: Understanding the Rez Dog."
In addition, Charlie is currently involved in a research project led by WCVM Professor, Clinical Associate, and PhD candidate Dr. Jordan Woodsworth, focusing on dog management strategies for remote Indigenous communities within Saskatchewan.
The CVMA Teacher of the Year Award is presented annually to a teacher at each of the five Canadian veterinary colleges. The recipient, selected by veterinary students, is a teacher who inspired them most by their approach to the subject, teaching methods, and enthusiasm.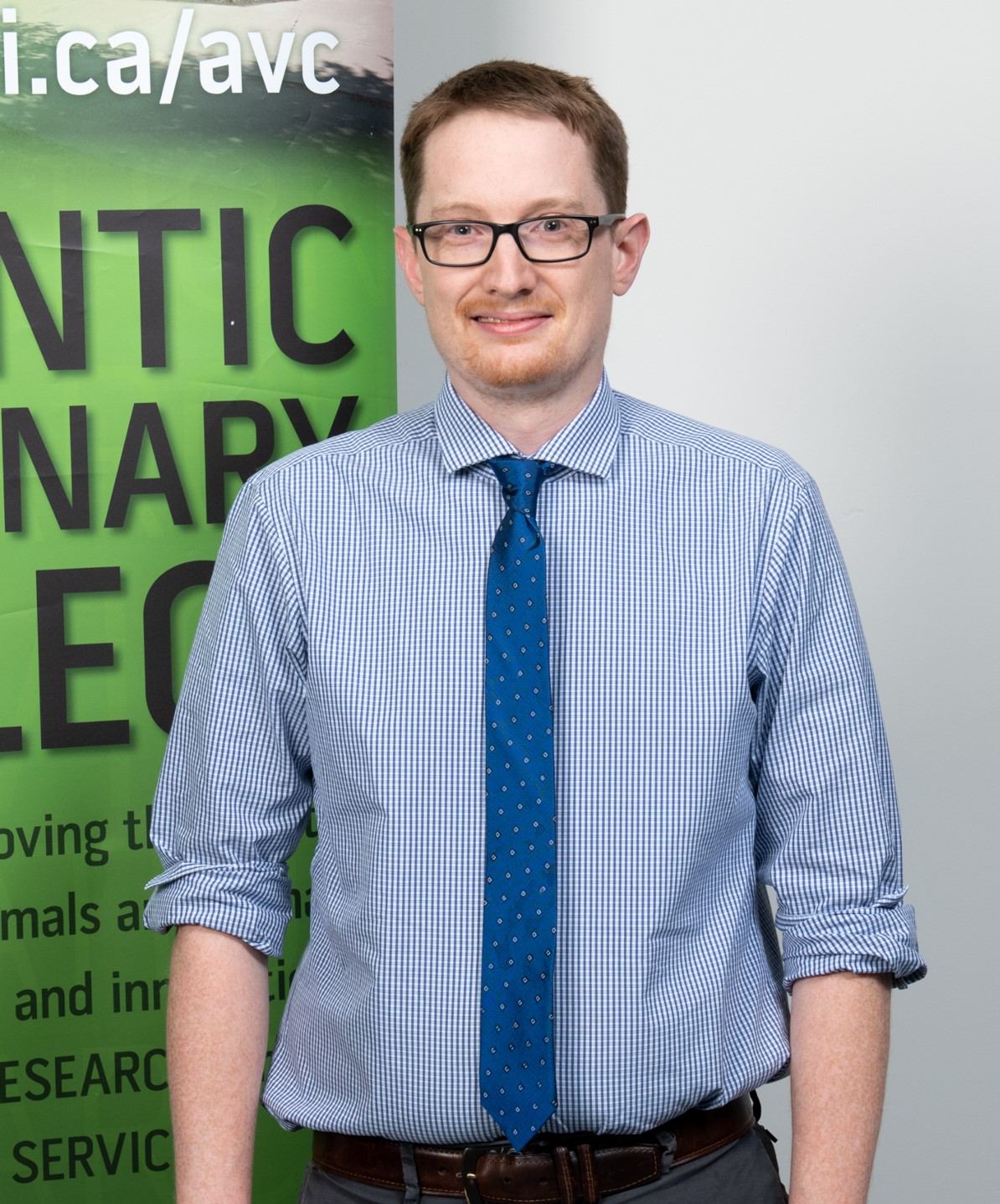 Dr. Mitchell Carr
Dr. Mitchell Carr is a lecturer and clinician at the Atlantic Veterinary College at the University of Prince Edward Island. He works with the Community Practice team and teaches pre-clinical lectures and laboratories for veterinary students.
Dr. Carr is an alumnus of the Atlantic Veterinary College (Class of 2018). After working in predominately small animal practice after graduation, he joined the Atlantic Veterinary College in late 2021. He takes pride in providing services that match client needs while providing quality care for the patient — skills he learned through fantastic mentorship after graduation.
Dr. Carr's advice to new graduates: "Veterinary life is complicated and exhausting. Being on-call and alone can be daunting. You've got this! Try to surround yourself with mentors and colleagues who can help. If you're stuck with the on-call phone, always let it go to voicemail; 99% of the time, you've got the time to take 2–3 minutes to open a book and refresh your memory. You'll look and sound like you've been doing this for "years." It's saved my sanity many nights. Also, don't forget to find things that make you belly laugh. Life is worth it."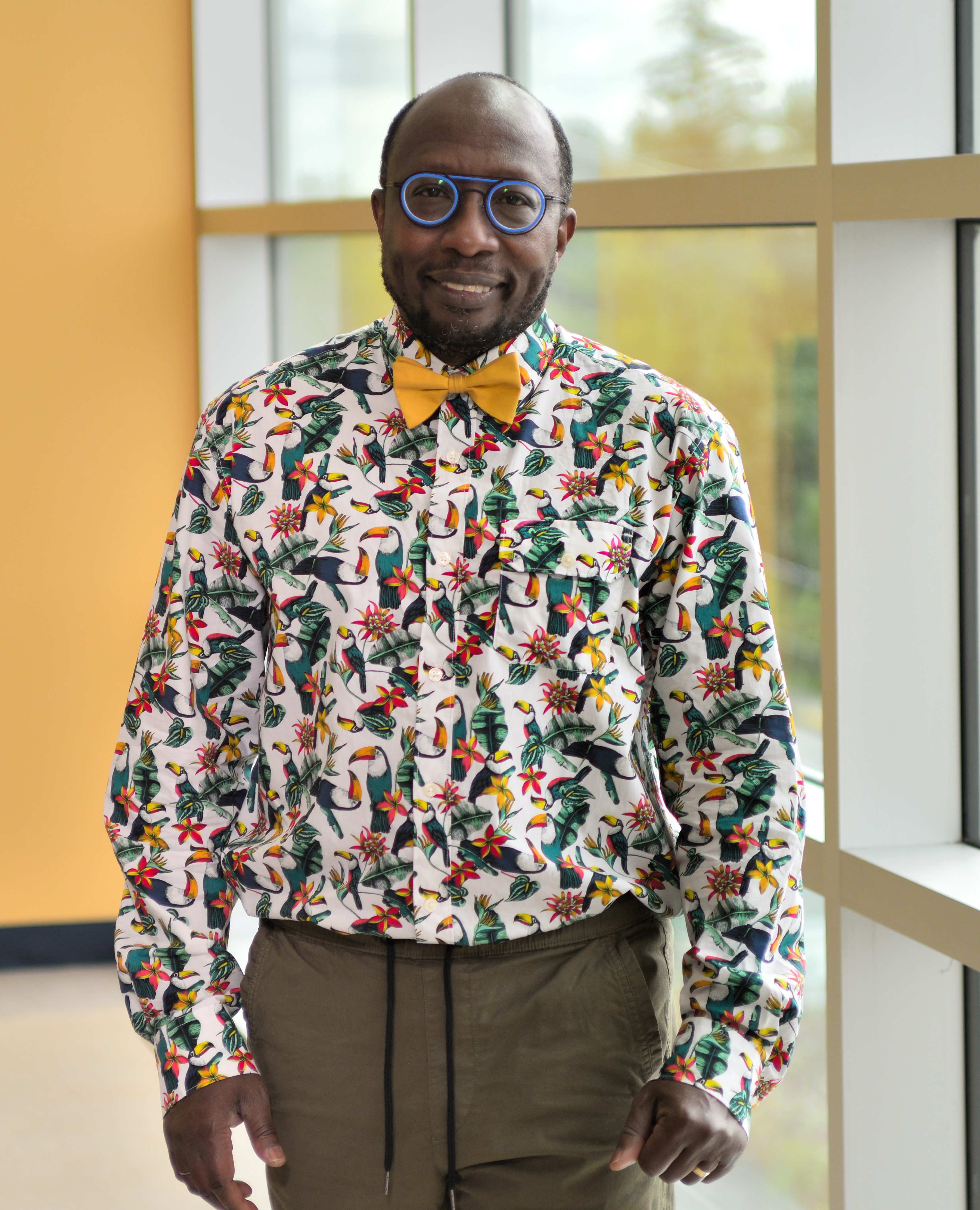 Dr. Mouhamadou Diaw
Dr. Mouhamadou Diaw, DVM, MS, Dipl. ACT is an Associate Professor in theriogenology at the University of Montreal. He graduated from the École Inter-États des Sciences et Médecine Vétérinaires in Dakar (Senegal) and worked for several years in mixed private practice.
After spending a breeding season at Hagyard Equine Medical Institute, Lexington, Kentucky, he completed a residency in theriogenology at the University of Florida, Gainesville, Florida. After completing his residency, Dr. Diaw was a lecturer in theriogenology at North Carolina State University, Raleigh, North Carolina. Dr. Diaw is particularly interested in advanced reproductive techniques.
Dr. Diaw's advice to students: "To the students, I would say that they will encounter obstacles but that nothing is insurmountable; they should not give up but rather learn from the situations they will be confronted by in order to better progress, and never forget that after the night, always comes the day."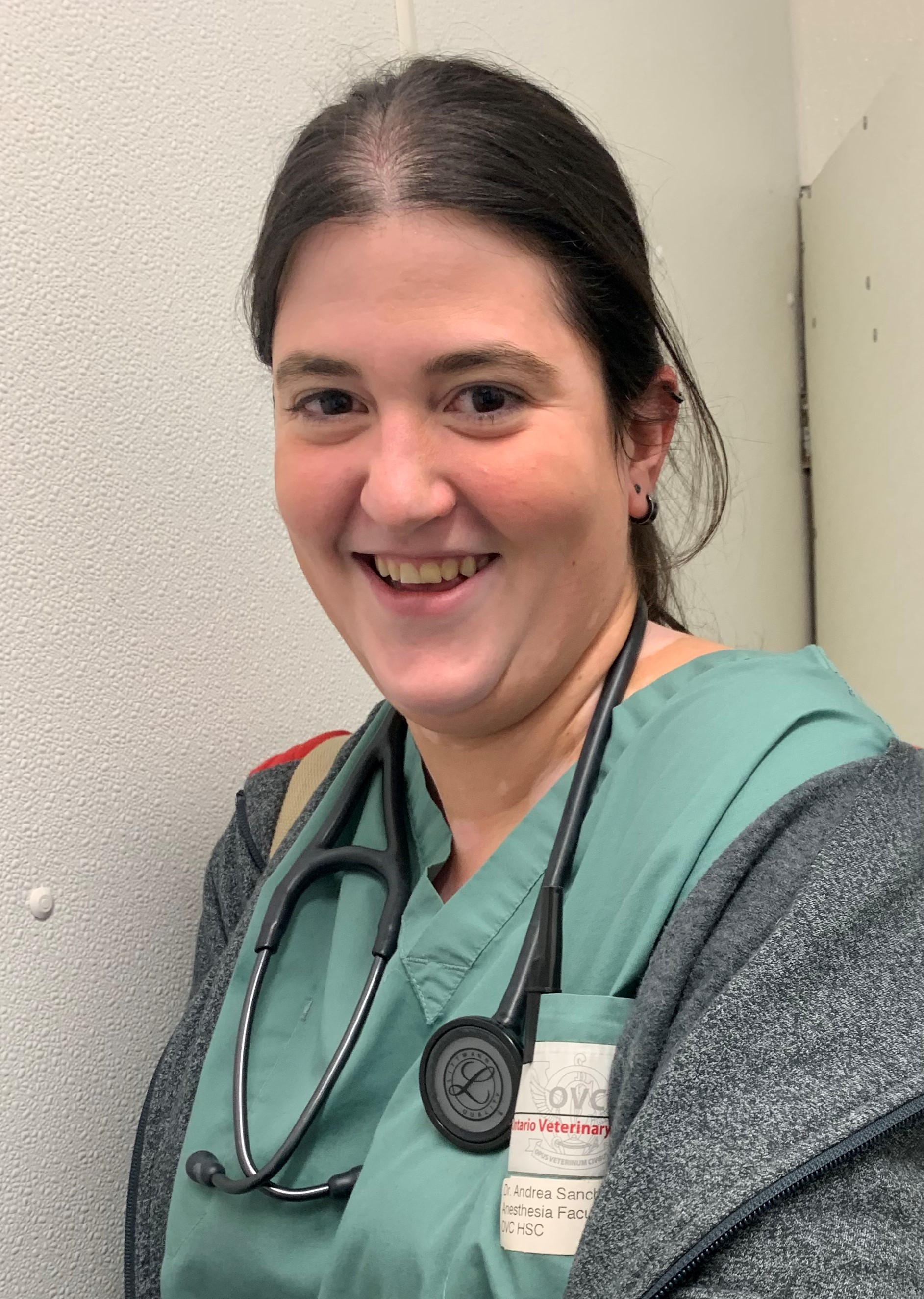 Dr. Andrea Sanchez
Dr. Andrea Sanchez graduated from the University of Murcia, Spain in 2011 after which her Canadian adventure started. She was accepted into an anesthesiology residency and graduate (DVSc) program at the Ontario Veterinary College (OVC).
After graduating in 2015, Dr. Sanchez worked in a private practice for a year while she studied for her anesthesia boards. After successful completion of American College of Veterinary Anesthesia and Analgesia boards, she was presented with an opportunity to follow her passion for teaching and began her career as an Anesthesiology Professor at OVC in 2017.
Today, she is fortunate to be able to work with some of the best specialists and researchers in their fields and contribute to the growth of amazing future veterinarians.
Dr. Sanchez's advice for students: "I think the best advice I can give the students for the years to come is to follow these three rules: Never stop learning, support each other, and have fun. The best veterinarians I know are the ones who use every opportunity to learn something new and improve themselves even after years in their field. We also know that our profession is going through a rough patch right now, so make sure that you all become part of a strong support system and look out for each other. And of course... always remember to have fun along the way!"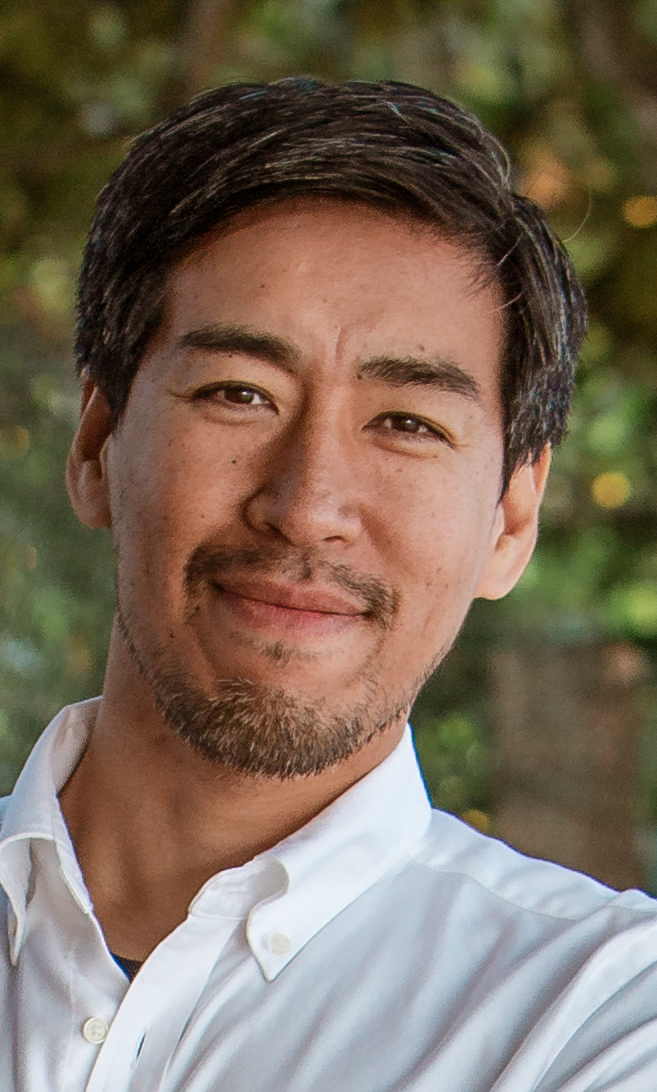 Dr. Koji Aoki
Dr. Koji Aoki is an Assistant Professor of small animal surgery at the Western College of Veterinary Medicine (WCVM). He received his veterinary degree in Japan and went to UC Davis and Michigan State University for research and clinical training. He then completed a small animal rotating internship at University of Minnesota and surgery residency at University of Saskatchewan. He became a Diplomate of the American College of Veterinary Surgeons in 2019.
Dr. Aoki received a Clinical Professor of the Year teaching award at WCVM in 2021.
Dr. Aoki has passion for any kind of challenging surgeries, but his primary focus is joint replacement and minimally invasive orthopedic surgery. In his current role, he teaches various courses to DVM students in all years at WCVM.
He is very grateful for all the opportunities he received in Canada.
Although he is not sure if he is the best person to give advice to students, his best advice is: "Find a specialty you love, then you will be loved."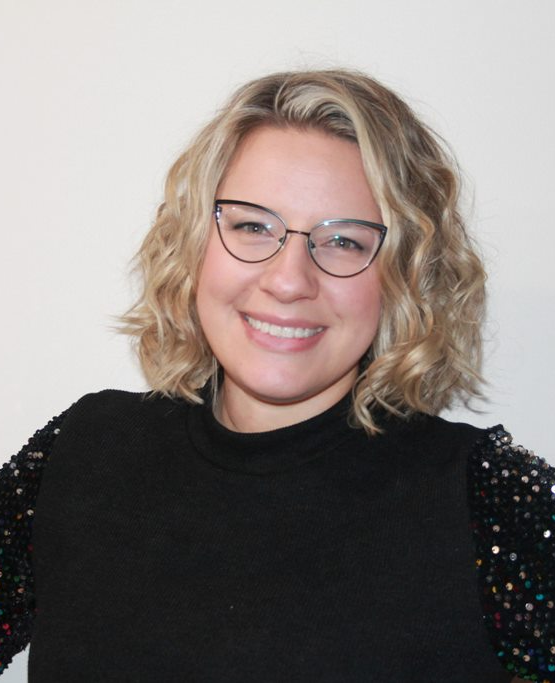 Dr. Angelica Galezowski
Dr. Angelica Galezowski graduated from the University of Winnipeg with her BSc in 2003, then obtained her DVM from the Western College of Veterinary Medicine (WCVM) at the University of Saskatchewan in 2007.
Dr. Galezowski entered a 3-year clinical pathology residency program at the WCVM and became a Diplomate of the American College of Veterinary Pathologists (ACVP) in 2010. She joined the Veterinary Diagnostics Services (VDS) pathology team in Winnipeg, Manitoba in 2010, and in 2013, was appointed the diagnostic lead for the clinical pathology laboratory.
Dr. Galezowski joined the University of Calgary — Faculty of Veterinary Medicine (UCVM) in 2017 as an Assistant Professor where she teaches in all 4 years of the program, including the Clinical Pathology, Pathologic Basis of Disease, Clinical Skills, Professional Skills, and Clinical Presentations courses and 4th year clinical rotations. She served on the ACVP Board Examination Committee for several years and in September 2022, was appointed Associate Dean Student Experience at UCVM.
Dr. Galezowski's advice to students: "You are infinitely capable! Give yourself some grace when you don't immediately understand 'x' concept or perform 'y' clinical skill with ease. Lifelong learning is a marathon, not a race. So be kind to yourself! You got this."
Sponsored by Petsecure Pet Health Insurance, this award is presented to a CVMA member whose work in small animal practice, clinical research or basic sciences is judged to have contributed significantly to the advancement of small animal medicine, surgery, or the management of a small animal practice. The award consists of $1,000 and a plaque.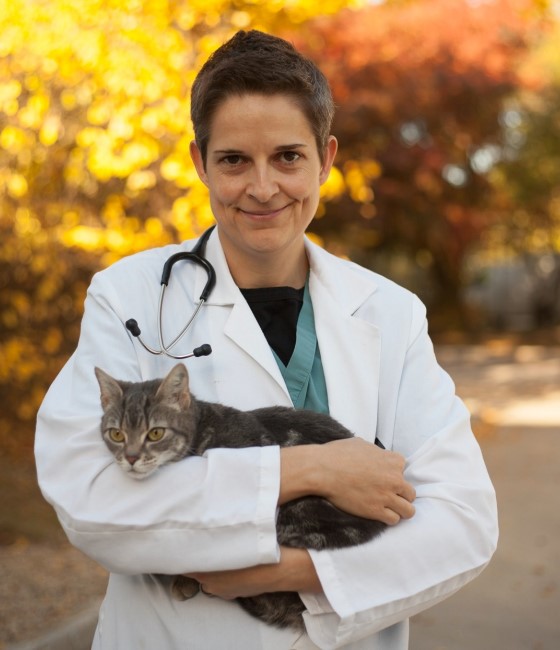 2023 Recipient:
Dr. Barbara Ambros
Barbara Ambros is a Professor of veterinary anesthesia at the Western College of Veterinary Medicine. She received her Doctor of Veterinary Medicine from the Veterinary University of Vienna, Austria. Dr. Ambros worked in a small animal referral clinic before she completed a residency in veterinary anesthesia at the WCVM. She is a Diplomate of the European and American College of Veterinary Anesthesia and Analgesia. She enjoys the variety of her job: working with a variety of species, teaching undergraduate and graduate students, and pursuing research. She has a special interest in small mammal anesthesia and pain management. She likes to volunteer her time at spay and neuter clinics.
Established in 1985, and sponsored by Merck Animal Health, this award is presented to a CVMA member whose work in large animal practice, clinical research, or basic sciences is judged to have contributed significantly to the advancement of large animal medicine and surgery, including herd health management. The award consists of $1,000 and a plaque.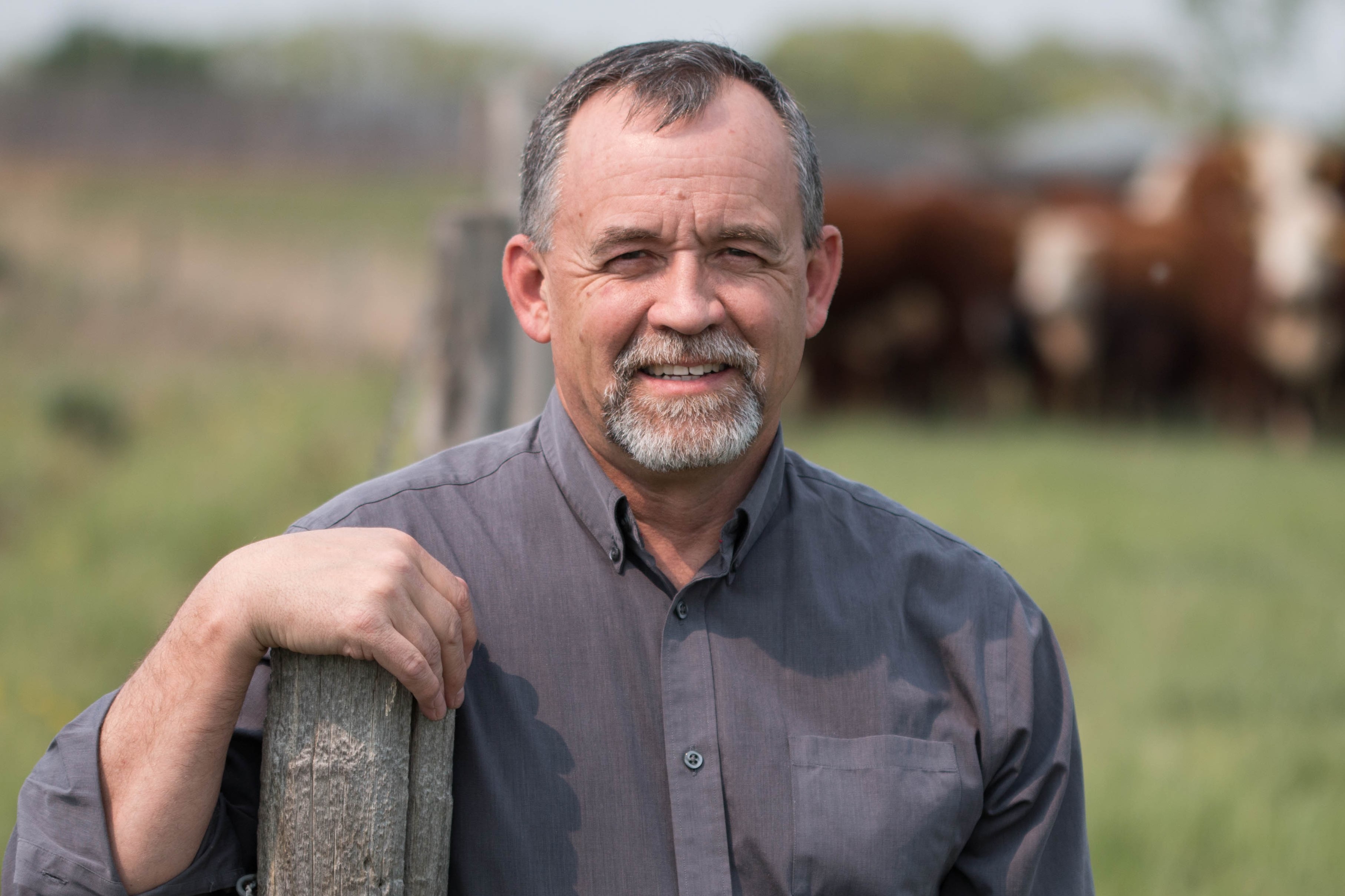 2023 Recipient:
Dr. John Campbell
Dr. John Campbell graduated from the Ontario Veterinary College, University of Guelph in 1985.  After several years of rural veterinary practice, he returned to Guelph to complete a Doctor of Veterinary Science degree in Ruminant Health Management.  He has worked as a clinical faculty member on the Ruminant Field Service Practice at the Western College of Veterinary Medicine, University of Saskatchewan since 1991. He served as Dept. Head of the Dept. of Large Animal Clinical Sciences from 2011-2017.  His primary research interests are in the fields of beef cattle production medicine and disease surveillance in beef cattle. He currently acts as the director for the college's Disease Investigation Unit and is an associate editor for the Veterinary Evidence Journal.  Dr. Campbell has over 100 scientific publications in scientific journals along with numerous conference proceedings. He has been the recipient of 5 teaching awards at the Western College of Veterinary Medicine and was the recipient of the 2007 Carl Block Award for contributions to Canada's animal health programs, the 2008 Western Canadian Association of Bovine Practitioners Veterinarian of the Year Award and the 2019 Canadian Beef Industry Award for Outstanding Research and Innovation.
The R.V.L. Walker Award, instituted in 1986, consists of a plaque and cash award. There are two recipients of this award: the plaque is presented annually to the President of the Students of the CVMA (SCVMA) in recognition of his/her contributions in promoting student interests in the CVMA; the cash award is made available to a veterinary student in financial need at the veterinary college where the President of the SCVMA is registered.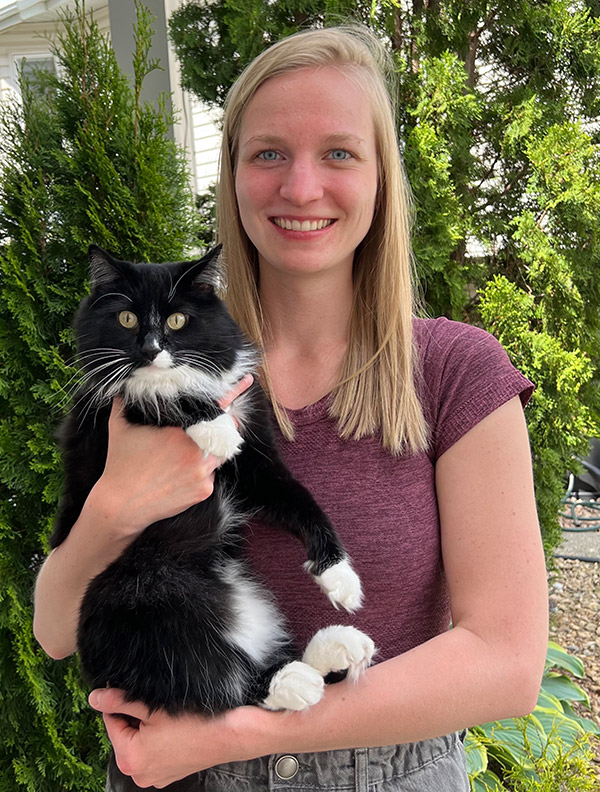 2023 Recipient:
Ms. Allison Kwantes