Each year, the CVMA presents awards and honours to veterinarians, veterinary teams and student veterinarians. Congratulations to our 2021 CVMA Award recipients!
Presented to an individual who has rendered distinguished service to the profession, whether residing in Canada or elsewhere.
2021 Recipient:
Award not presented in 2021
Presented to a CVMA member whose work is judged to have contributed significantly to the welfare and well-being of animals.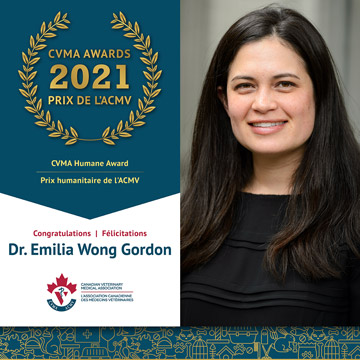 2021 Recipient:
Dr. Emilia Wong Gordon
Recognizes a CVMA member for their contributions to the advancement of veterinary medicine.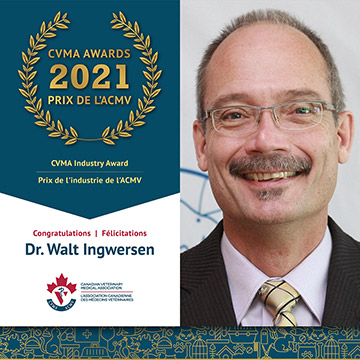 2021 Recipient:
Dr. Walt Ingwersen
Presented to a CVMA member for long and outstanding service on CVMA Council, Executive, Boards, and Committees or for outstanding contributions to the veterinary profession.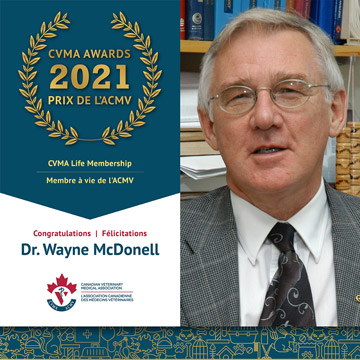 2021 Recipient:
Dr. Wayne McDonell
Recognizes a veterinary practice team for outstanding achievement within their local community. Such achievements may include innovations in provision of veterinary services, commitment to work-life balance, meaningful community or charitable involvement, or implementation of 'green' practice procedures.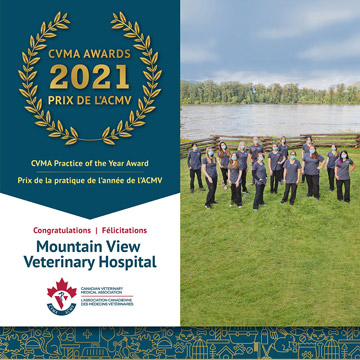 2021 Recipient:
Mountain View Veterinary Hospital
Recognizes an individual member for his/her exceptional contributions and devotion to the association. Recipients are selected by the President and the CVMA Executive Committee.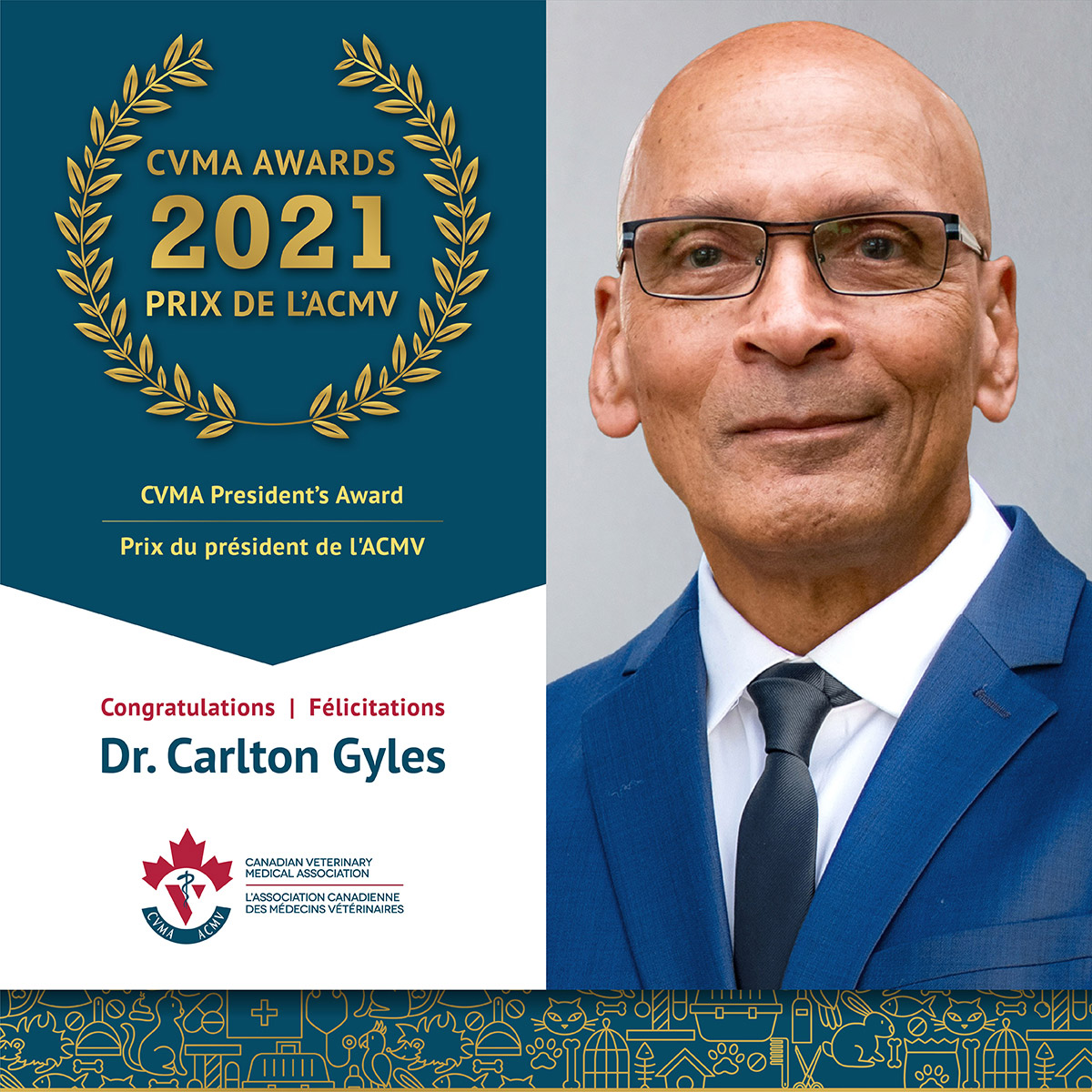 2021 Recipient:
Dr. Carlton Gyles
The CVMA Student Leadership Award, instituted in 1966, consists of a plaque and a monetary award presented annually to a 3rd-year veterinary student at each of the Canadian veterinary colleges. The recipient is selected by his/her classmates based on their leadership and achievement in student affairs.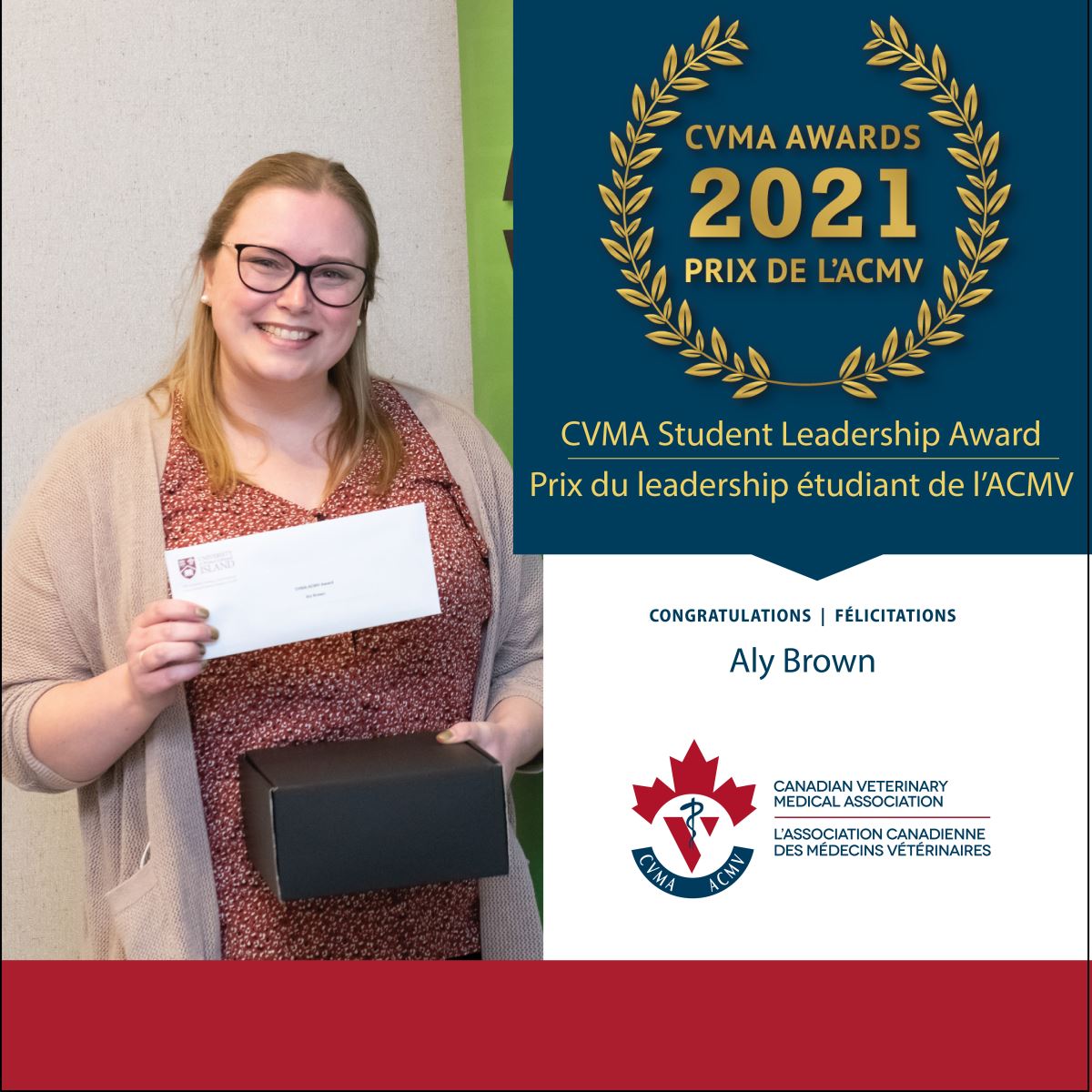 Aly Brown
Congratulations to Aly Brown for being chosen as the 2021 recipient of the CVMA Student Leadership Award at AVC!

Get to know Aly a bit more!

What year of study at AVC are you enrolled in? 4th year, Class of 2022

What professor or person has been your greatest inspiration and why? Dr. Anne Marie Carey is a great role model at AVC, as she is very involved in the AVC, and is invested in student learning and overall mental health.

Other than completing your degree, what are your goals while you are a student here? I aim to make AVC a great place to students to learn and interact with each other. I hope to do this though my volunteer work with the Society of Atlantic Veterinary Students.

Do you volunteer and what extracurricular activities do you enjoy: I enjoy helping with the Society of Atlantic Veterinary Students, by trying to make our student life great at the AVC. I am also actively involved in my class executive, where we work to support students in our class.

Here's a bit more about Aly: I enjoy hiking and enjoying nature while I am not busy at the Veterinary Teaching Hospital. Thank you so much for your generous donation to the AVC. This prestigious award means a great deal to me, as it was one that was chosen by my peers. Helping my AVC community is very important to me, and it is a pleasure to know that my actions are being noticed by others. Again, thank you so much!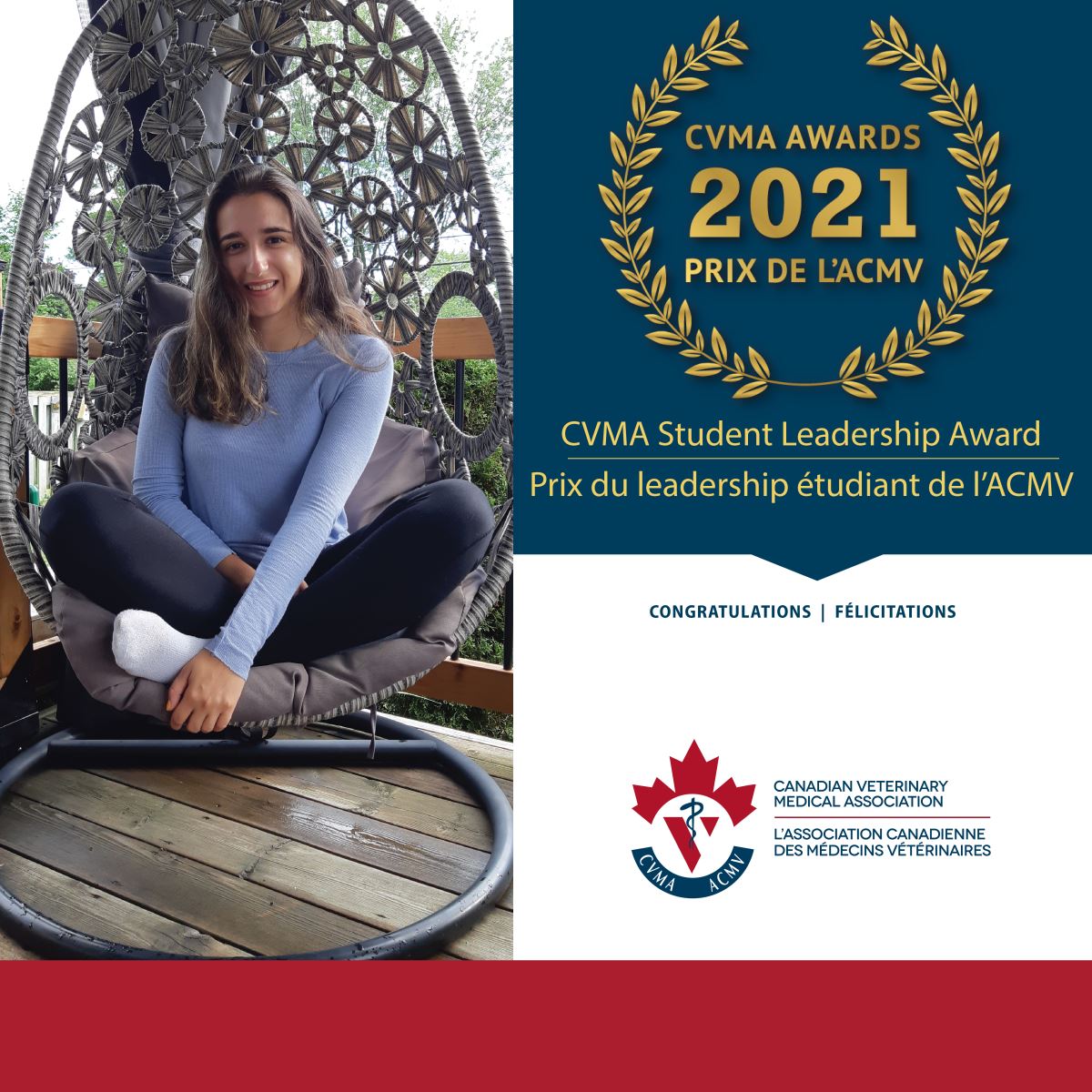 Alyssa Arsever
Alyssa Arsever is a 3rd-year student at the Université de Montréal — Faculté de médecine vétérinaire in Saint-Hyacinthe. She completes her studies in French, which is 4th spoken language, after English, Armenian and Italian. Alyssa enjoys playing soccer and spends her free time playing guitar.

Having started her university studies in Neurosciences at University de Montréal, Alyssa was able to acquire knowledge about the brain and gain experience working with animals from a research perspective during her internship. Once accepted into veterinary medicine, she quickly became involved in various extracurricular activities to explore her interests. In her first year, Alyssa became her class representative of the Emergency medicine club of which she is now vice-president. Throughout the years, she became an active volunteer at the animal shelter within the school, Refuge CHUV, and took part in their trap neuter and release programs, adoption committee and managed their Instagram account. On the path to explore more of her interests, Alyssa took on the role of student representative of the AVQMR (Association Vétérinaire Québécoise de Médecine de Refuge) at the start of her 3rd year.

Students faced many challenges during the COVID-19 pandemic. The transition to online school left many feeling overwhelmed and discouraged. During this difficult time, Alyssa took on the role of academic delegate to better help her classmates and to build a bridge between students and teachers. She has also spread positivity with encouraging messages and awareness on mental health to combat the feeling of loneliness and to remind her classmates that they are one big family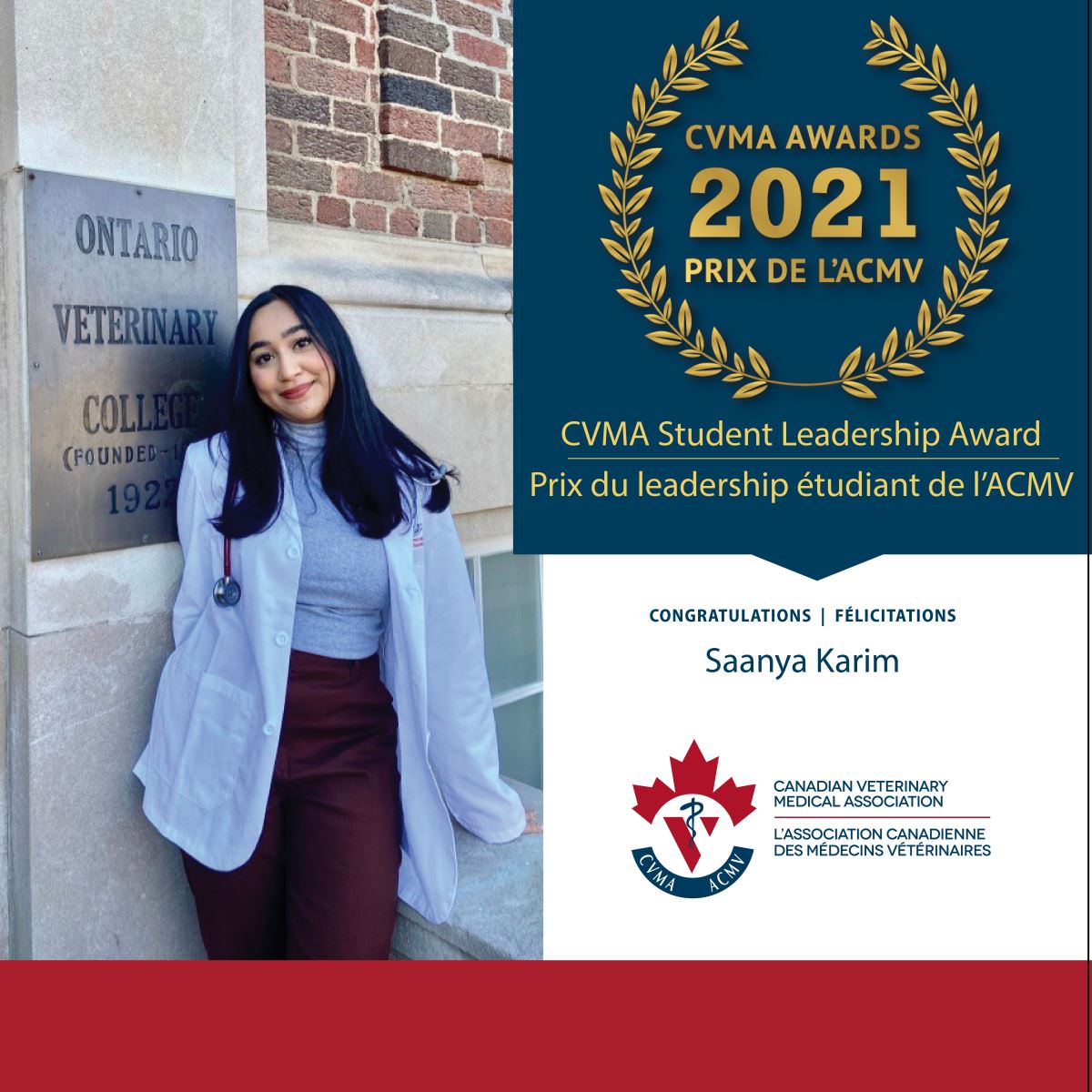 Saanya Karim
Saanya Karim grew up in the greater Toronto area is currently in her final year at the Ontario Veterinary College.

Saanya was first exposed to veterinary medicine in high school, when she began volunteering at a local veterinary clinic. Later, in between summers of her undergraduate degree at the University of Guelph, she worked at the Toronto Wildlife Centre which further solidified her passion for animal health. She had an incredible experience working with a variety of species. Saanya has always enjoyed working in a team, a big reason why she loves veterinary medicine because of how collaborative and creative the profession is!

During her time at OVC, she was the President of the Central Veterinary Student Associate, the SCACVIM (Internal Medicine Club) and cofounded OVC DIVERSE. Diversity and inclusivity in the veterinary profession is something she is passionate about and believes in encouraging conversations on how to make veterinary medicine accessible to everyone - both as a profession and as a service.

In her free time, Saanya loves to draw and spend time with her rabbit Buster who is almost 10 and has free run of the house!

After graduation, she hopes to pursue small animal medicine, and incorporate some emergency work and will continue to be an active member of the veterinary community.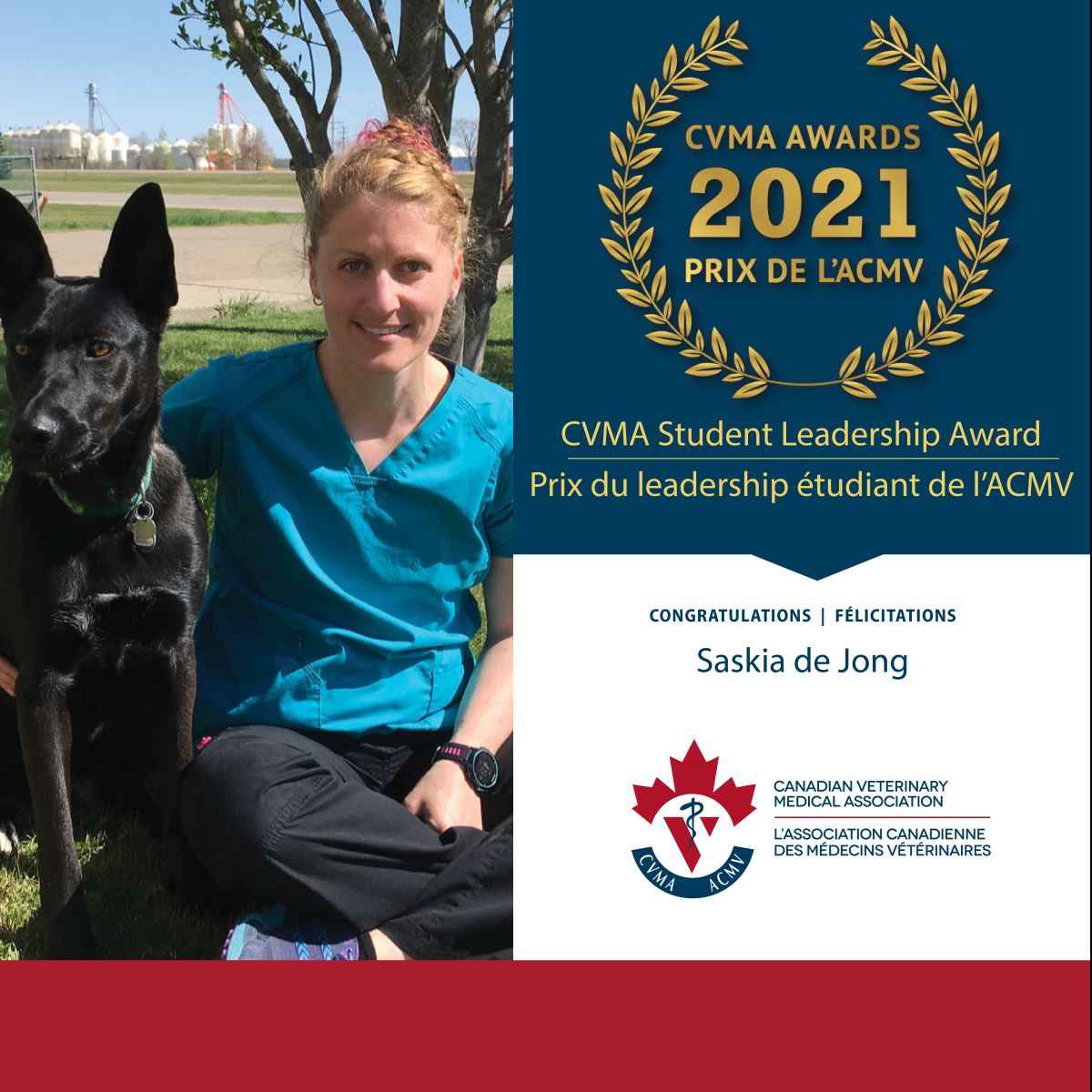 Saskia de Jong
Saskia de Jong grew up on reserve in remote northern Ontario in an area that had more bears than it had people. She enjoys being involved in community outreach and has a fondness for working with Indigenous communities and volunteering with the Special Olympics.

She studied at Dalhousie University and James Cook University and obtained a Master of Science before moving to Calgary to help take care of a sick family member. Her hobbies include playing fiddle/violin, learning more about the indigenous customs and languages she was raised with, reading, beading, soccer, archery, and long-course triathlon. Throughout schooling, Saskia has continued to be a lifeguard and swim instructor and works as an assistant in a small animal clinic. Currently she is gaining more experience in a rural mixed practice in Northern Alberta. Prior to attending UCVM she worked full time as an assistant in small animal practice but spent many summers helping family friends on their farms with diary cattle, alpacas, goats, and chickens.

At UCVM Saskia is the secretary for the Pathology Club and Behaviour and Animal Training Club. She is also co-chair for the UCVM WIDE (Wellness, Inclusion, Diversity and Equity) taskforce; a group that is comprised of faculty, staff, and students. She also founded the UCVM WIDE student group to help better support equity, diversity, and inclusion of students at UCVM. Saskia is also one of the founding members of the student One Health Club which is comprised of a small group of veterinary and medical students working together to promote better health outcomes for humans, animals, and the environment by improving working relationships and bonds between students in medicine, veterinary medicine and nursing.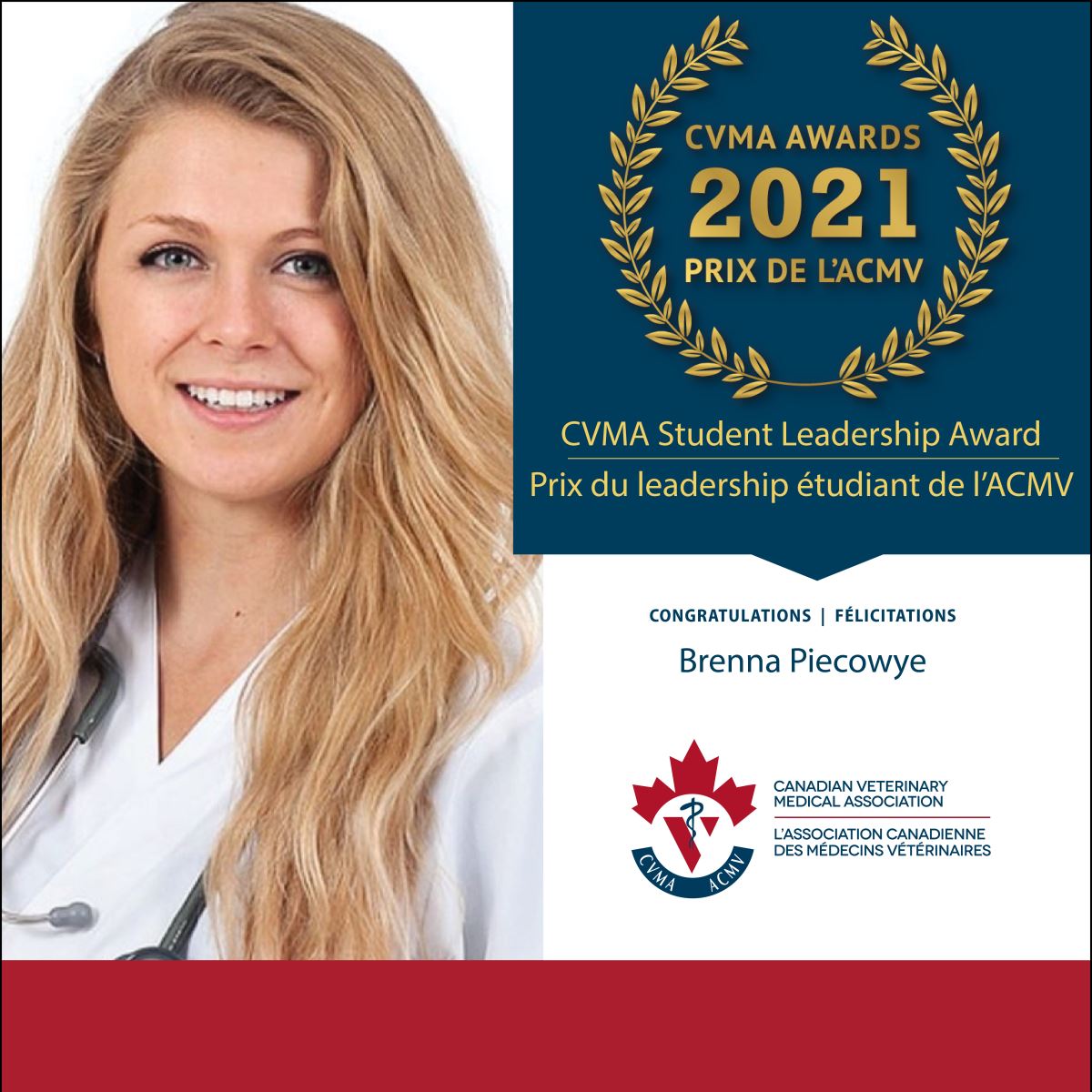 Breanna Piecowye
Breanna Piecowye is currently in her fourth-year in the DVM program at the Western College of Veterinary Medicine (WCVM) and is also completing a Master's degree, studying the effects of elevated stress in waterfowl species, and the methodology behind quantifying corticosterone in duck eggs. She has always wanted to be a veterinarian, and excited to be in this profession. Due to her passion for wildlife and research, she hopes to pursue a future in wildlife health and conservation. After she graduates, Brenna will finish her Master's degree and will continue further education in Zoological Medicine or wildlife research. Additionally, mental health advocacy and improving the veterinary profession is a passion of hers. She hopes the veterinary profession will continue to evolve in a way that is healthier for her colleagues, and offer support and guidance for anyone struggling. Brenna would like to thank her classmates for this award. They are wonderful people that inspire her every day.
The CVMA Teacher of the Year Award is presented annually to a teacher at each of the Canadian veterinary colleges. The recipient, selected by veterinary students, is a teacher who inspired them most by their approach to the subject, teaching methods, and enthusiasm.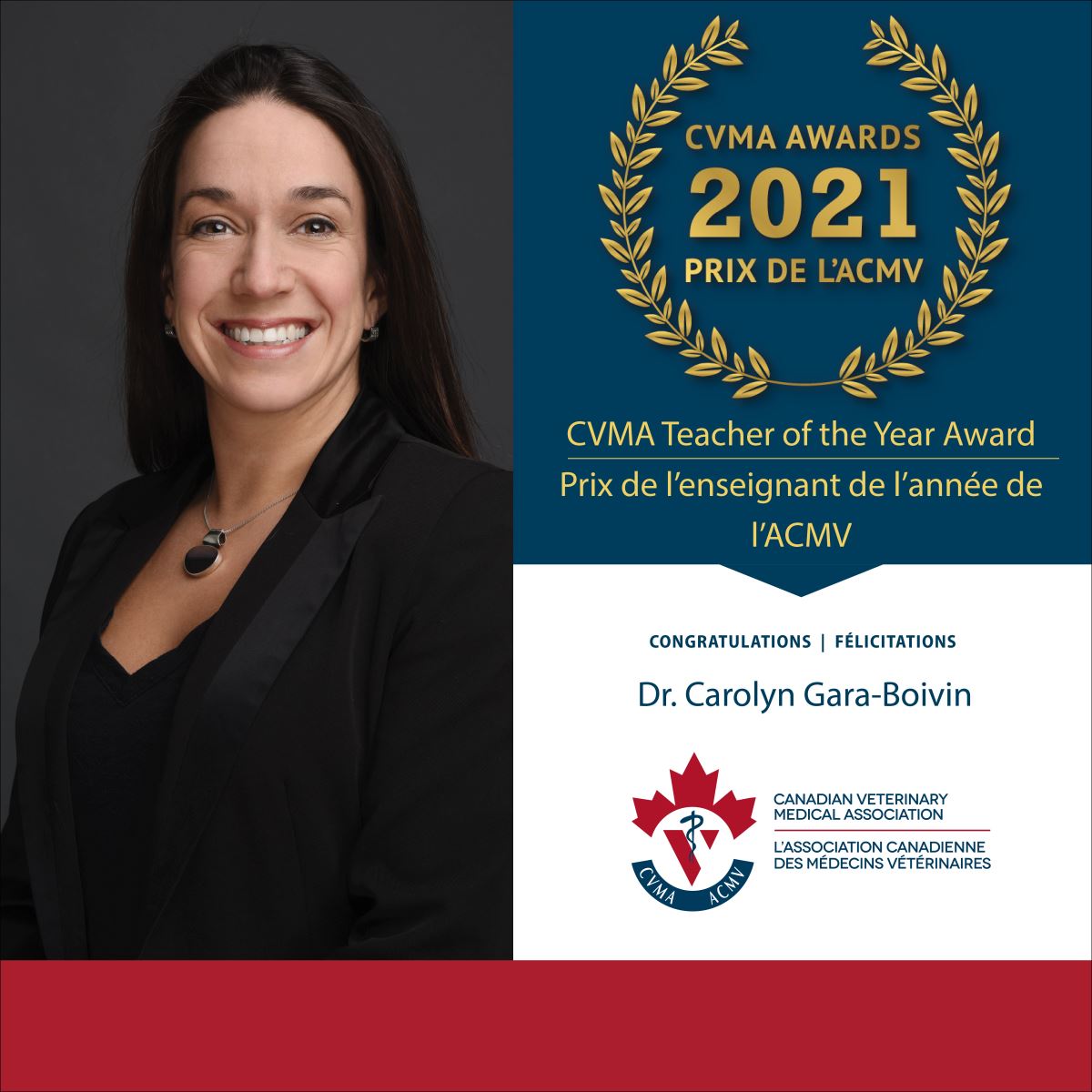 Dr. Carolyn Gara-Boivin
Dr. Carolyn Gara-Boivin, professor of clinical pathology at the Université de Montréal – Faculté de medicine vétérinaire (FMV), obtained her DVM from the FMV in 2007. She completed a residency in clinical pathology and a Master of Science degree in veterinary science in 2011 and 2013 respectively, at the FMV. She obtained her board certification from the American College of Veterinary Pathologists in 2012. Dr. Gara-Boivin was hired at the FMV as assistant professor in 2011, becoming an associate professor in 2017. As a veterinary clinical pathologist, Dr. Gara-Boivin's expertise is in cytology, biochemistry, hematology, and urology. Her research interests include use of anticoagulants and new assays for coagulation monitoring, developing new tests and improving procedures for urology, comparing point of care instruments, as well as a newfound interest in aquatic animal hematology. One piece of advice to veterinary students and new graduates is: "Never stop learning. There are so many wonderful areas in veterinary medicine to explore!"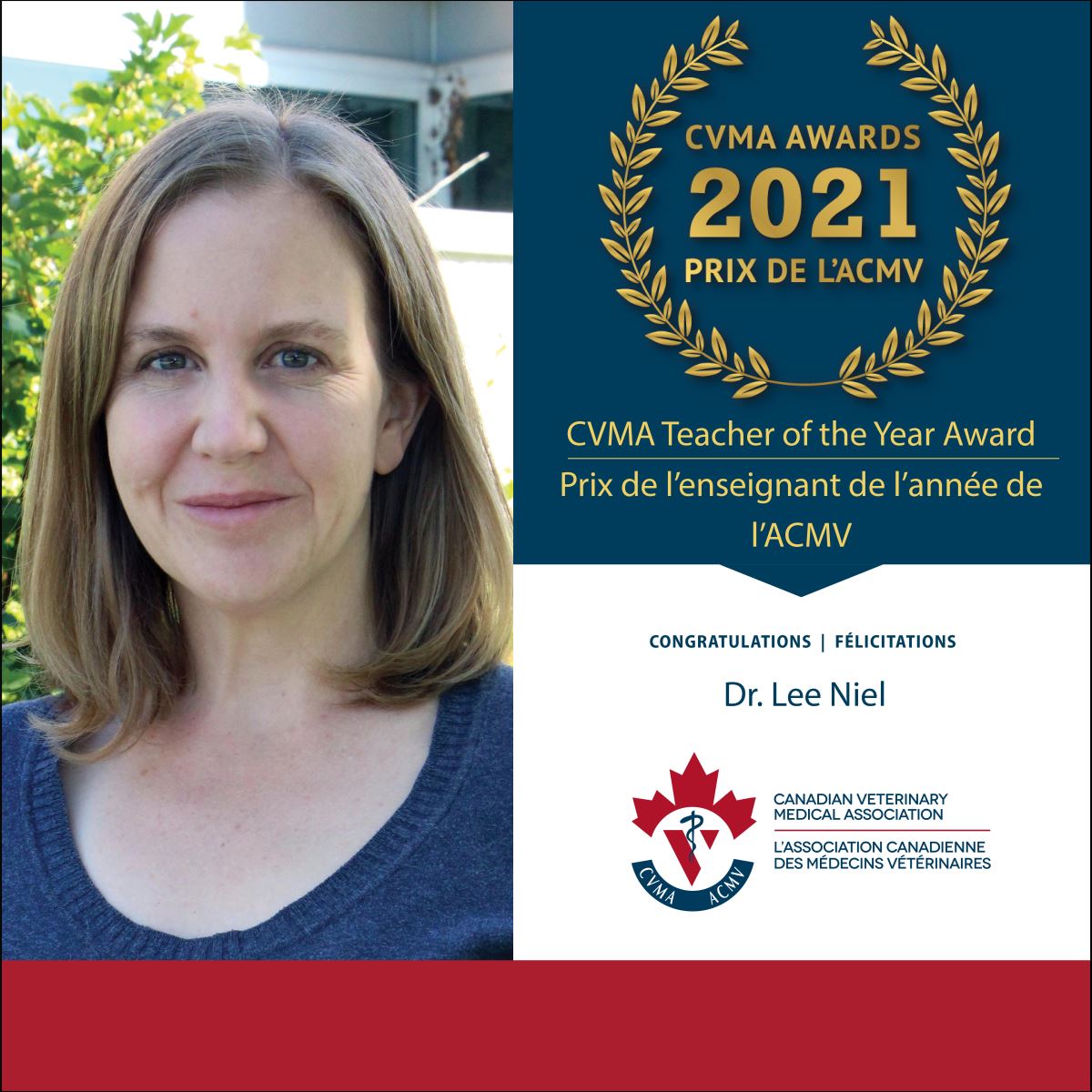 Dr. Lee Niel
Dr. Lee Niel, is an Associate Professor in the Department of Population Medicine at the Ontario Veterinary College. She is the Col K. L. Campbell Chair in Companion Animal Welfare, and is affiliated with the University of Guelph's Campbell Centre for the Study of Animal Welfare. Prior to starting her faculty position she completed her PhD at The University of British Columbia focused on animal behaviour and welfare, and her NSERC Postdoctoral Fellowship at the University of Toronto focused on behavioural neuroendocrinology. In her current role Dr. Niel teaches in various courses across Phases 1, 2, and 4 of the DVM program, with primary responsibility for veterinary student learning about companion animal behaviour and welfare. Her research group is focused on developing novel methods for assessing and improving cat, dog, and rabbit welfare, with a particular interest in understanding and preventing fear and aggression in the home and in veterinary clinical settings.

Dr. Niel's advice to students is "Stay true to yourself – prioritise your own well-being by seeking out people and opportunities that meet your needs and are a good match for your own personal ethics and perspectives. You deserve to be happy and fulfilled, so don't settle for less."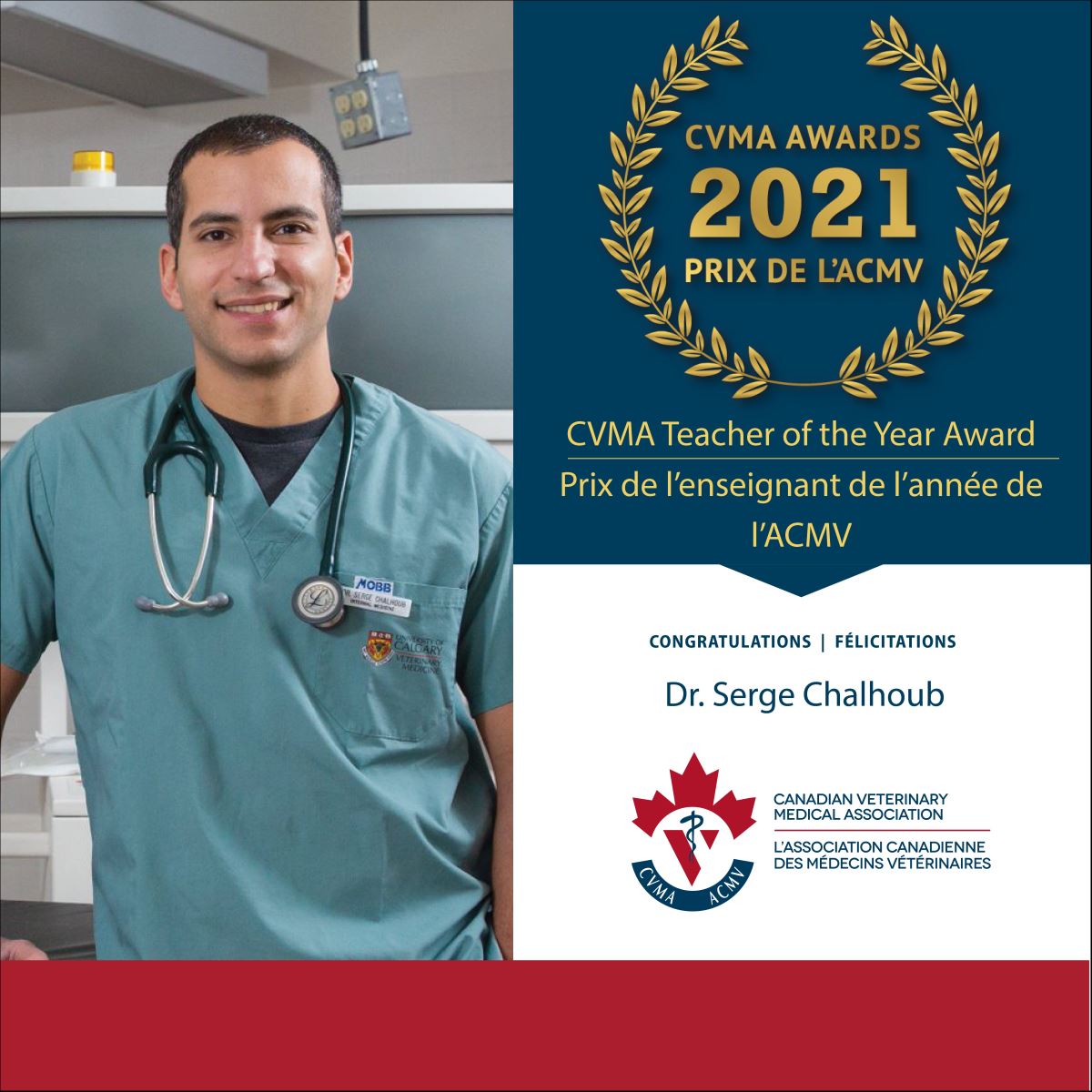 Dr. Serge Chalhoub
Dr. Serge Chalhoub graduated from Bishop's with a BSc. (Honours) in Biology, followed by graduating from the Doctor of Veterinary Medicine program from the Faculté de médecine vétérinaire (FMV) of the Université de Montréal. He then went on to complete a one-year rotating small animal clinical internship at the same institution.

After working for two years as a general practitioner and emergency veterinarian in Montreal, Serge pursued a residency in small animal internal medicine at the Animal Medical Center in New York City. Once his residency completed, he stayed on as their first renal/hemodialysis fellow and then as a staff doctor.

Dr. Chalhoub has been a faculty member at the University of Calgary's Faculty of Veterinary Medicine (UCVM) since 2012 and currently holds the rank of tenured senior instructor. He was the recipient of the 2013 CVMA Teacher of the Year Award, the 2015 University of Calgary Team Teacher of the Year Award, and the 2017 Carl J. Norden Distinguished Teacher Award (considered the most prestigious teaching award for a veterinary faculty member in North America). He is the coordinator of a community outreach-service learning program (UCVM-CUPS Pet Health Clinic) for disadvantaged Calgarians and has authored and co-authored numerous scientific articles and book chapters on veterinary point of care ultrasound, renal and urinary medicine, and lectures around the world on these topics. He is a member of the National Issues Committee (NIC) of the CVMA and a Council Member for the Alberta Veterinary Medical Association.

Dr. Chalhoub's piece of advice for students, "Stay curious, stay strong, and always take care of yourselves. Do the right thing, and things will be right. You are all awesome."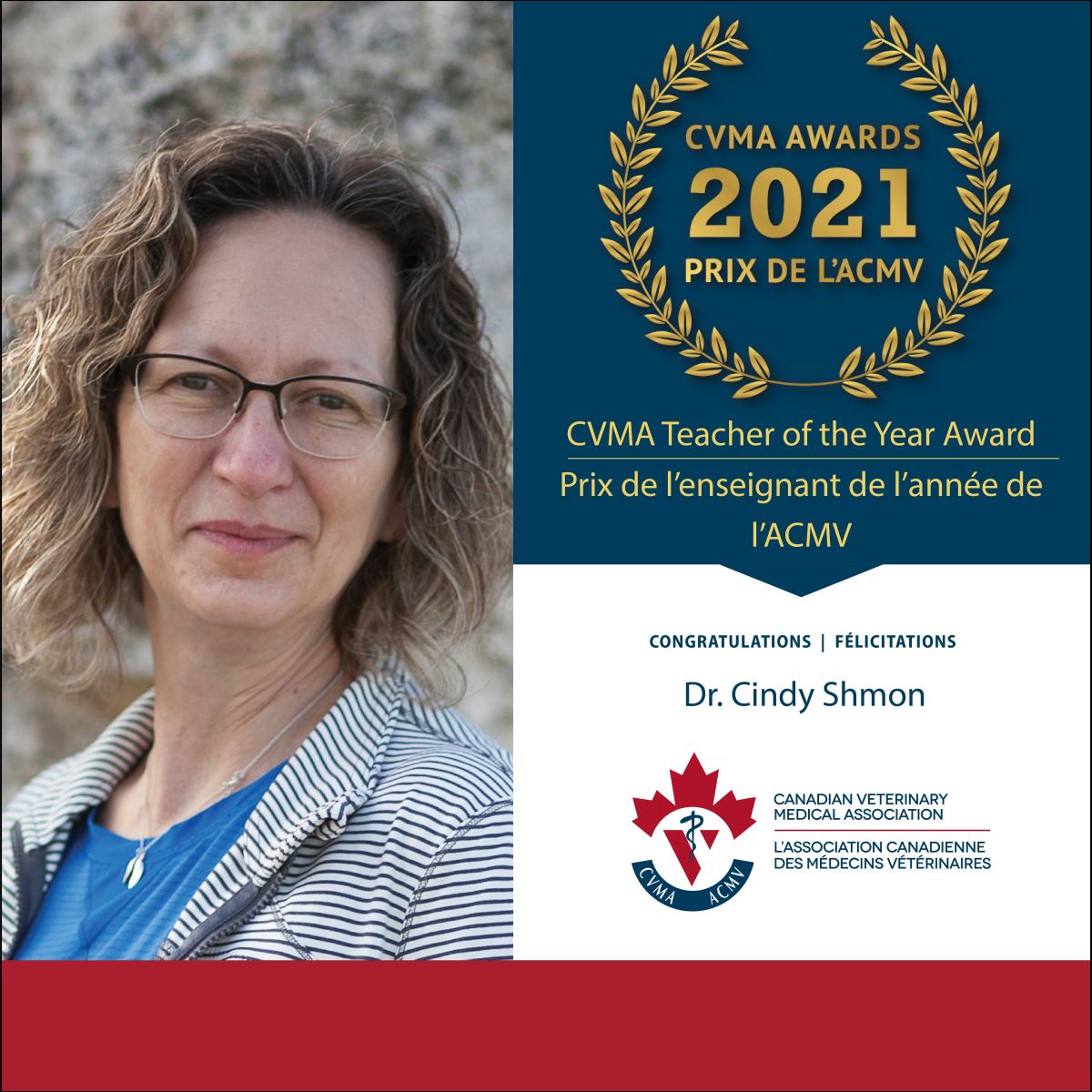 Dr. Cindy Shmon 
Dr. Cindy Shmon is a Professor and the Chair of the Small Animal Department of Clinical Sciences at the Western College of Veterinary Medicine. A native of Saskatchewan, she received her DVM from the WCVM in 1984. She completed a rotating internship and DVSc in small animal surgery at the Ontario Veterinary College. After returning to Saskatoon to join the faculty in small animal surgery, she became a Diplomate of the American College of Veterinary Surgeons. Teaching has always been a passion because of the rewards associated with seeing future veterinarians learn and grow in the profession, master technical skills, and then watch the developing confidence and self-satisfaction when they are performed well. To share in their journey from the initial unknown and the accompanying stress and anxiety to the "I've got it" or "I did it" moment and helping it happen is gratifying. Exploring different ways to share information and develop skills keeps things fun. Her advice to undergraduates and graduates would be to "keep an open mind and explore all parts of the profession as there are so many aspects that are interesting and exciting. When you find your passion, that's where you want to take your career. When you love what you are doing, it never feels like work."
Dr. Scott feels fortunate to be a veterinarian and is grateful for the opportunities he's had working as a clinician and now as a research scientist and teacher. He is eternally thankful for the teachers and mentors he had as a student, in particular, large animal surgeon Dr. Peter Fretz. According to Dr. Scott, the impact and importance of role models on the student's path to becoming a good professional, and a good person, is immense.
He recognizes the benefits he received from his mentors and tries to pass those on to the students with whom he works. Dr. Scott finds it difficult to think of a singular message to give as advice to students, as many thoughts come to mind, depending on the topic and context. One thought he often emphasizes to students is to keep an open mind and be curious. One of the greatest aspects of this profession is the diversity of people and opportunities that arise. It is more than a job; it is truly a lifestyle within a global community of inspiring people and their efforts. We may think we know where our lives are headed or what our interests are, but there is uncertainty in life and things change. By keeping an open mind and cultivating curiosity, he believes we can be more resilient, adaptable, and excited by all the opportunities the profession affords.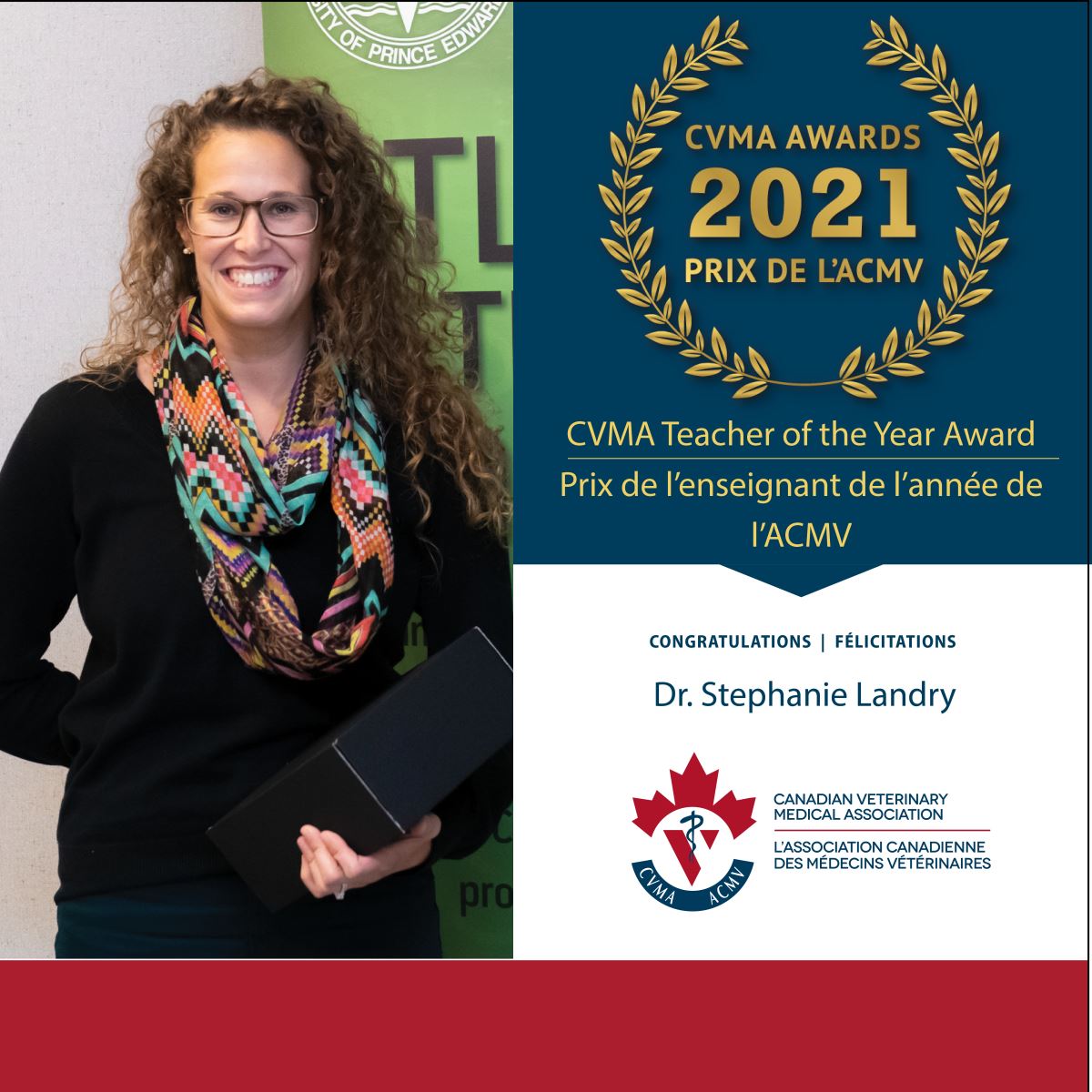 Dr. Stephanie Landry
Dr. Stephanie Landry has been a lecturer in the department of companion animals at the Atlantic Veterinary College (AVC) since 2019. A native of Saint John, NB, she attended McGill University, then graduated from AVC in 2010. Following graduation, she worked at a fast-paced small animal general practice in Ontario until an opportunity arose for her to return to her beloved Maritimes to teach at the AVC.  
Dr. Landry has a passion for teaching clinical skills. She endeavors to get to know each student personally, and through these relationships has found success in helping them achieve growth in their clinical skillset. She finds the process of helping a student develop confidence and ability especially rewarding. She is also fortunate to work with some of the finest veterinary educators, and loves to collaborate with others. 
Her advice for veterinary students is: Find the fun in learning! You will be lifelong learners in this career, and appreciating opportunities to learn something new is essential for professional growth and well-being. If you are feeling defeated, all it takes is a small mindset shift to reinvigorate yourself! 
Presented to a CVMA member whose work in small animal practice, clinical research or basic sciences is judged to have contributed significantly to the advancement of small animal medicine, surgery, or the management of a small animal practice. The award consists of $1,000 and a plaque.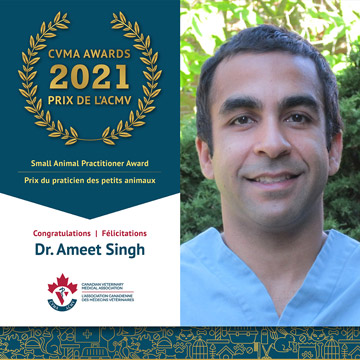 2021 Recipient:
Dr. Ameet Singh
Presented to a CVMA member whose work in food animal production practice, clinical research, or basic sciences is judged to have contributed significantly to the advancement of food animal medicine and surgery, including herd health management. The award consists of $1,000 and a plaque.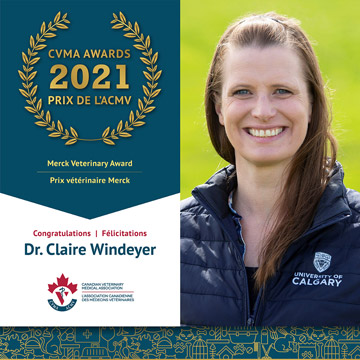 2021 Recipient:
Dr. Claire Windeyer
Two recipients receive this award each year: the plaque is presented to the President of the Students of the CVMA in recognition of his/her contributions made in promoting student interests in the CVMA; the cash portion of the award is made available to the veterinary college where the President of the SCVMA is registered that year in order to provide financial assistance to a veterinary student in financial need.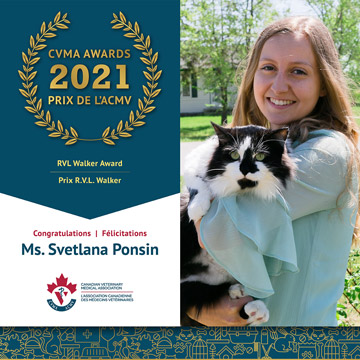 2021 Recipient:
Ms. Svetlana Ponsin