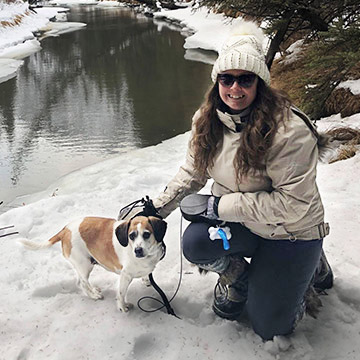 There were very few things normal or predictable about 2020-21. Face masks and hand sanitizer became all the rage, and the general population became statisticians and immunologists overnight. Across Canada, curbside and telemedicine became the "norm" for veterinary clinics. Meanwhile, instruction via Zoom and the division of classmates into small, segregated cohorts became daily routine for veterinary students. Our profession and the teaching of our craft may never be the same again. What the future of schooling will look like nobody knows, however, I bet much of the technology is here to stay leaving a final blend of technological and traditional methods. After all, being able to take in a full day's classes in pajama bottoms wasn't the worst of the "remote learning" experience.
This school year started off during the pandemic and the first SCVMA event was the annual One Voice Presentation and Hot Topic Discussion. The Hot Topic Discussion this year was about veterinary needs and care in Indigenous Communities and how veterinarians need to understand the context of the Indigenous' relationships with animals to provide appropriate care. Each of the Canadian Veterinary Universities held their own presentation with their own invited speakers. As all the presentations were online, speakers did not have to travel; therefore, financial impacts and time lost were negligible. We were able to cast a wider net and attract more remote speakers that may not normally be able to attend. This was the case for the presentation held at UCVM, where we were able to have Amanda Niptanatiak-Dumond, resident of Kugluktuk, Nunavut and manager for the Kugluktuk Angoniatit Association (Hunters and Trappers Organization) provide her and her family's perspective on animals and explain their relationship through a series of photographs. The students and attendees found her perspective invaluable to furthering their understanding of the subject. I am sure everyone who attended a Hot Topic Discussion this year deepened their insight into this important topic, and I would like to thank all the speakers on behalf of the SCVMA for providing this educational opportunity.
The second SCMVA event was the 2021 SCVMA Symposium which I wrote about at length in my previous article published in the April 2021 edition. In short, the Symposium was a huge success after it had to be moved online for the first time ever. The students were able to participate in numerous lectures and labs that were modified for online teaching such as suturing practice and radiograph interpretation. Probably the most impressive thing about the 2021 SCVMA Symposium was that it had the highest attendance of any previous symposium - a total of 526 students! Of the 526 attendees, 30 of them were students from the University of Glasgow (Scotland), University of Edinburgh (Scotland) and, Massey University (New Zealand) as they are a part of the CVMA International Affiliate Program (IAP). The online nature of the symposium offered accessibility for all and provided the opportunity to meet students that we may not have met if it had been held in-person. This past year's SCVMA Symposium was both fantastic and unique and we are now looking forward to the 2022 SCVMA Symposium which is being hosted by my home university, UCVM. It is being planned by Garrett Wachoski-Dark, UCVM's soon-to-be senior representative as he replaces me, and I continue onto my 4th year rotations. If anyone would like to offer help or services for our upcoming 2022 SCVMA Symposium, please e-mail Garrett at glwachos@ucalgary.ca.
As this academic year ends and another begins, I think we are all going to make it through, wiser, stronger, and better. Classes at each university have been a blend of online learning and small group in-person labs. Students in their final year rotations were able to complete requirements and graduate. One thing is certain: It is was not easy for anyone - not for the students, not for the professors, not for the university employees, not for the deans and not for the presidents. As a student, all I wanted to do this year was finish my 3rd year of veterinary medicine and that would not have been possible without the continuous perseverance from everyone around me and everyone responsible for my education. So, on behalf of all Canadian Veterinary Students, I would like to thank all the Canadian Veterinary Universities for pushing through and getting us students another year further along our quest to become veterinarians.
I would also like to thank the other members of this year's SCVMA Committee, Svetlana Ponsin (WCVM), Katie McQueen (AVC), Charlotte Nury (FMV) and Peyton Tam (OVC), for a wonderful year and all their hard work. Hopefully, I'll see you all in person soon!
Stay safe everyone!
- Kelcey King, UCVM Class of 2022