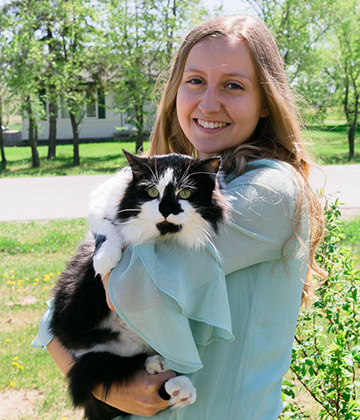 It is hard to believe that the 2020-2021 school year has already come and gone! Though this year was extremely challenging for students, completing online classes in addition to balancing the stressors of the pandemic goes to show how resilient we can be in the face of adversity. Congratulations to the Class of 2021 for your perseverance, and the best of luck with your future endeavors!
It has been an absolute honour representing students on the Students of the Canadian Veterinary Medical Association (SCVMA) and on the CVMA Council. One of the highlights of this year for me was taking part in the Working Group on Diversity and Inclusion through the CVMA. In addition to work done by the CVMA, I am incredibly proud to say that all five of the Canadian veterinary colleges have formed student-led groups for Diversity, Equity, and Inclusion this year. Though I know the work is just beginning, I am excited to see what will be accomplished by these groups in the next few years to make the profession more inclusive. I am thankful for the wonderful people I have met through these associations, both students and veterinarians, and for the knowledge I have gained through this experience.
I would like to take a moment to thank my fellow SCVMA Committee senior representatives: Katie McQueen (Atlantic Veterinary College), Charlotte Nury (Faculté de médecine vétérinaire - Université de Montréal), Peyton Tam (Ontario Veterinary College) and Kelcey King (University of Calgary Faculty of Veterinary Medicine), and of course the junior representatives: Farnaz Farnaghi (AVC), Emilie Lambert (FMV), Jeff Li (OVC), Jack Krone (WCVM) and Garrett Wachoski-Dark (UCVM) for all of their hard work that has gone into the activities organized this year. Despite the challenges faced this year, we still had the largest Symposium event to date with 526 participants! Last but certainly not least, I would also like to thank Natalie Morrisey for her dedication to the SCVMA and for the support that she offers us with SCVMA initiatives. It has truly been a privilege working with all of you, and I hope that we meet again (in person) one day!
As always, the SCVMA is here to support students and to build relationships among Canadian veterinary students. I wish Jeff Li (OVC) a successful year ahead as he takes over the role of SCVMA President for the 2021-2022 year. I know that he will be an excellent representative for veterinary students.
Best wishes for the new school year!
Svetlana Ponsin
SCVMA President 2020-2021
Western College of Veterinary Medicine, Class of 2022