The CVMA Student Leadership Award, instituted in 1966, consists of a plaque and a monetary award presented annually to a 3rd-year veterinary student at each of the Canadian veterinary colleges. The recipient is selected by their classmates based on their leadership and achievement in student affairs. 
Meet the 2022 CVMA Student Leadership Award recipients: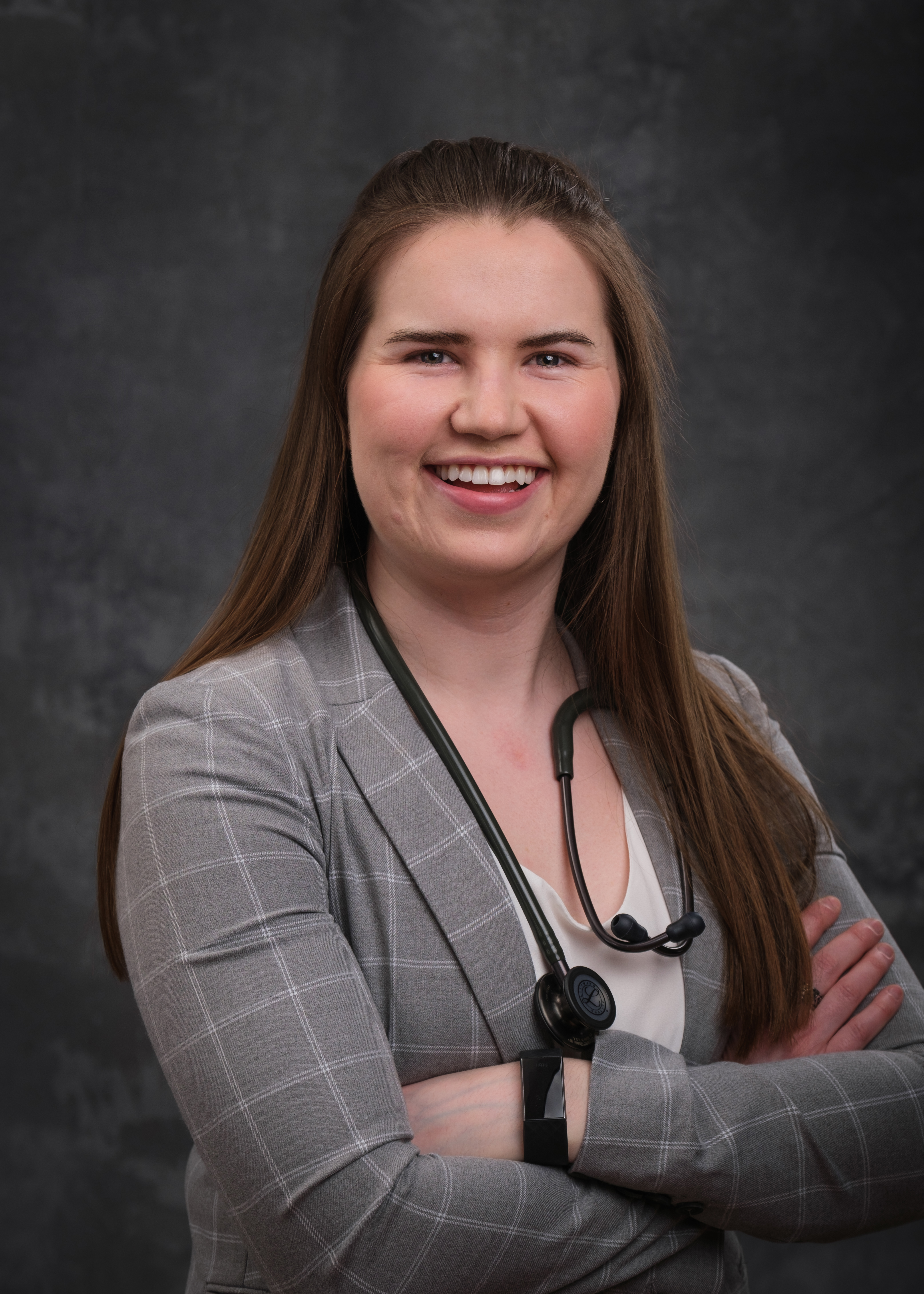 Kasadee Allan
Kasadee Allan has always had a passion for leadership and being chosen for this award, especially because it is selected by her peers, means a lot to her.
Born and raised in rural New Brunswick, she is the youngest of 5 children, all of whom learned a strong work ethic at an early age while working on their father's seed potato farm. She followed her love of farming to the Dalhousie Agricultural Campus, where she earned a Bachelor in Agriculture, majoring in Animal Science. After a 2-year hiatus, she decided to return to school at Atlantic Veterinary College (AVC). She has had the privilege of being involved in the close-knit AVC community through the Society of Atlantic Veterinary Students, her class Executive Committee and other clubs.
She plans to return to New Brunswick and become a large animal general practitioner, at least for now. Continuing her education may bring her back in a few years. She looks forward to being a part of her next community after graduation.
Outside of veterinary medicine, Kasadee enjoys playing sports with her friends, especially basketball, quoting movies with family, and performing stand-up comedy.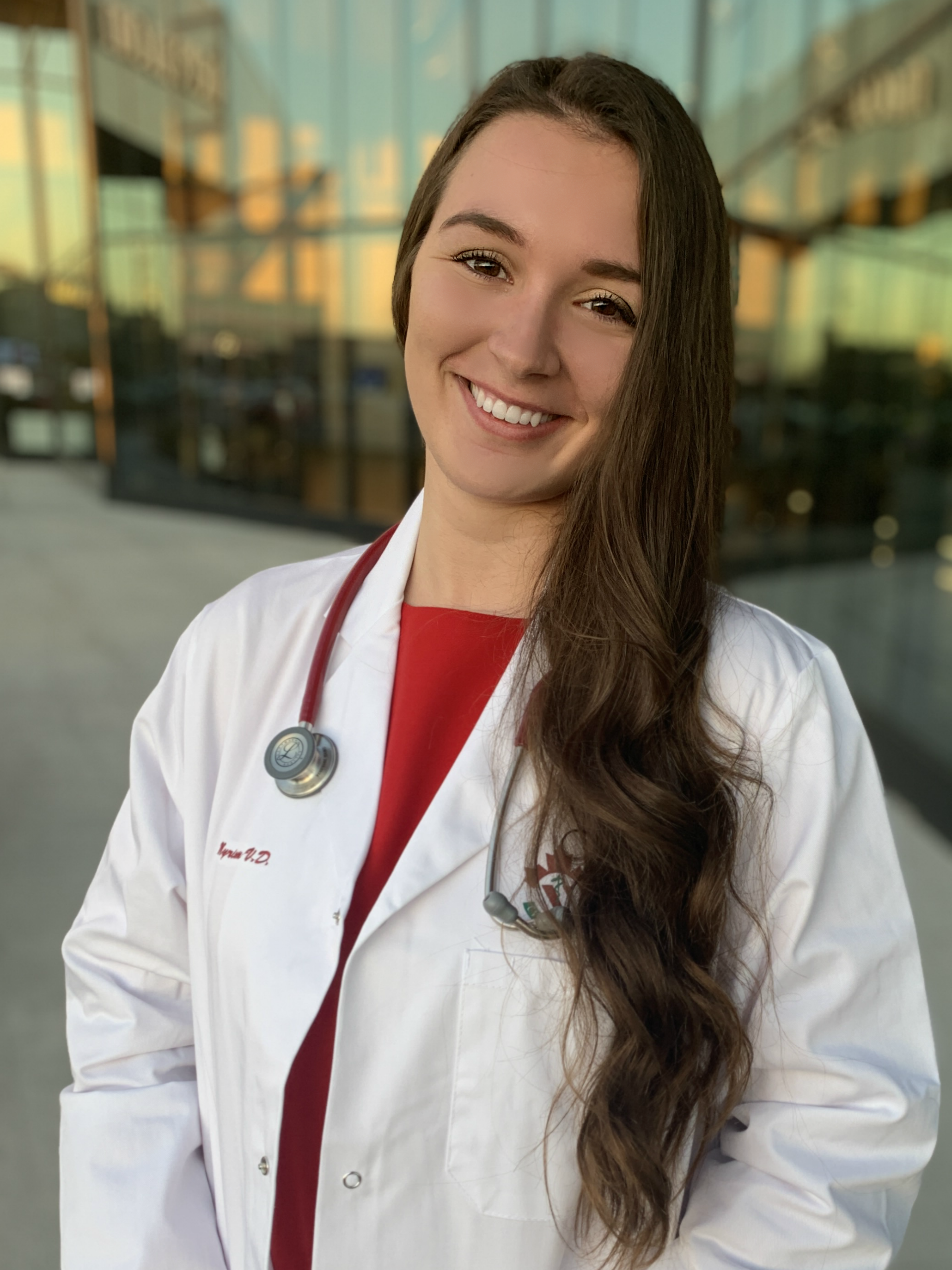 Myriam Verge Delisle
Myriam Verge Delisle is a 4th year student at the University of Montreal's Faculté de médecine vétérinaire in Saint-Hyacinthe (FMV).
She grew up in the countryside with horses, Bernese Mountain dogs and 2 lamas. After persevering to get admitted to veterinary school, she feels like she is in the right place to pursue her dream. Myriam got involved right away in her first year as the academic delegate of her class and is now an Academic Affairs Coordinator for the Student Association. Helping others has always been something important for her and this is why she keeps volunteering at school and is always available to listen to her colleagues' academic or personal concerns. This led her to be involved in various academic committees, as well as a project creating a new veterinary campus in Rimouski, Quebec.
Myriam is on the board of the Quebec Association of Equine Veterinarians and is also President of the Equine Club of her school, which allows her to organize activities and conferences. She has also been working for more than 3 years at the equine hospital in Saint-Hyacinthe and has participated in large animal externships. Her interest in small animals also led her to join a veterinary clinic in her area. For many years, Myriam has been involved in the Bernese Mountain Dog Club of Quebec to help the health and well-being of those dogs, as well as organizing health veterinary clinics in ophthalmology and cardiology for all breeds, with the objective of helping prevent genetic diseases.
All those experiences allowed her to evolve, and she intends to stay involved in various fields while completing her degree and exploring many areas of veterinary medicine. She sincerely thanks the Canadian Veterinary Medical Association and her colleagues for this award.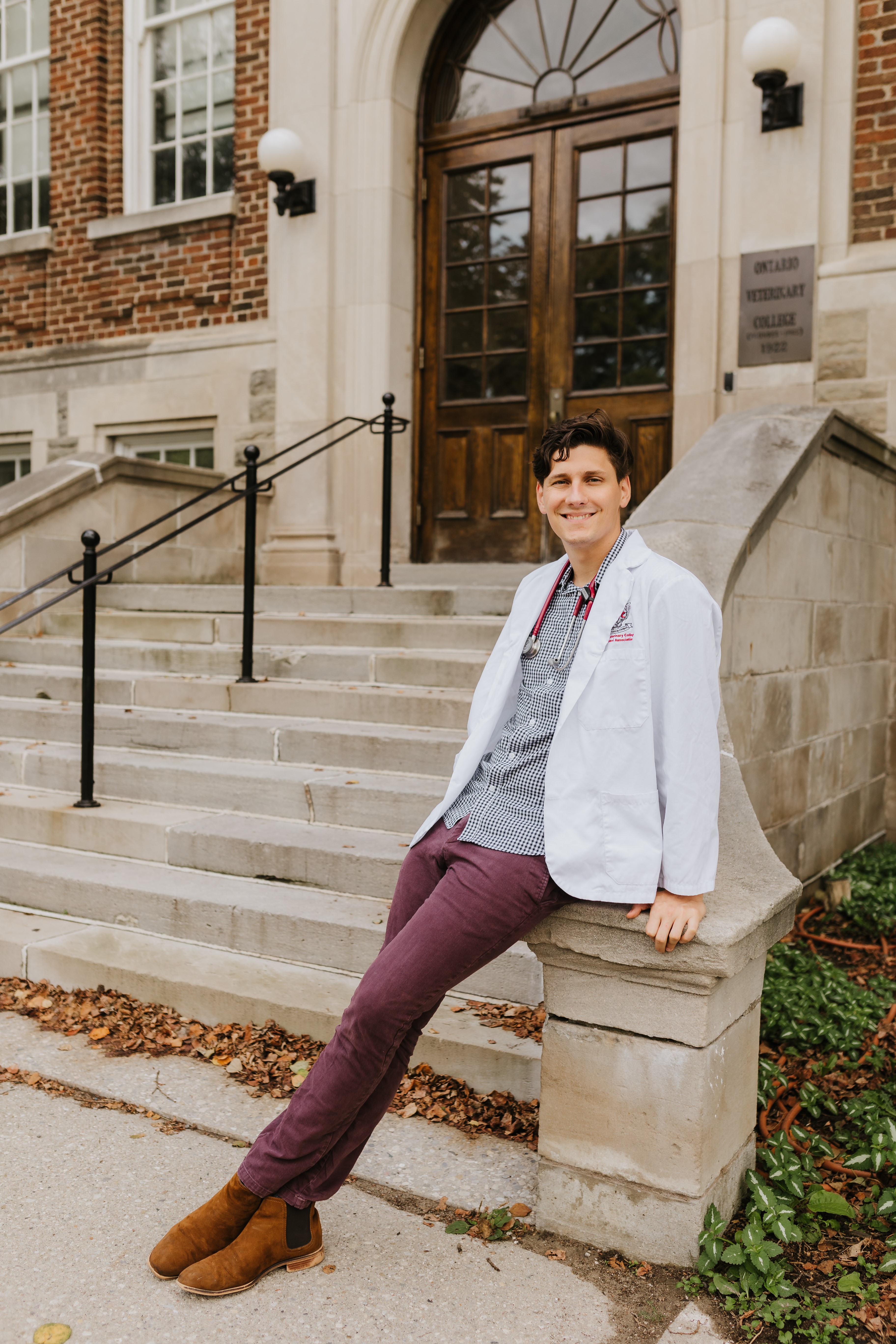 Brent Carbone
Brent Carbone is in his 4th year at Ontario Veterinary College (OVC) where he is specializing in small animal medicine with a focus on emergency medicine. Brent is originally from Buffalo, New York, but chose to attend OVC because of the rigor of the classes, as well as the close-knit community and class that is fostered at OVC.
He is the Co-President of the Class of 2023 and believes that it is because of his work to make everyone's 4 years as productive and memorable as possible that his peers nominated him for this award.
The class of 2023 (The Opal Otters) makes him proud every day and he is amazed at how far they have come in just 4 years as they will soon be treating animals from around the world.
Brent feels incredibly fortunate to have been chosen by his peers for the CVMA 2022 Student Leadership Award.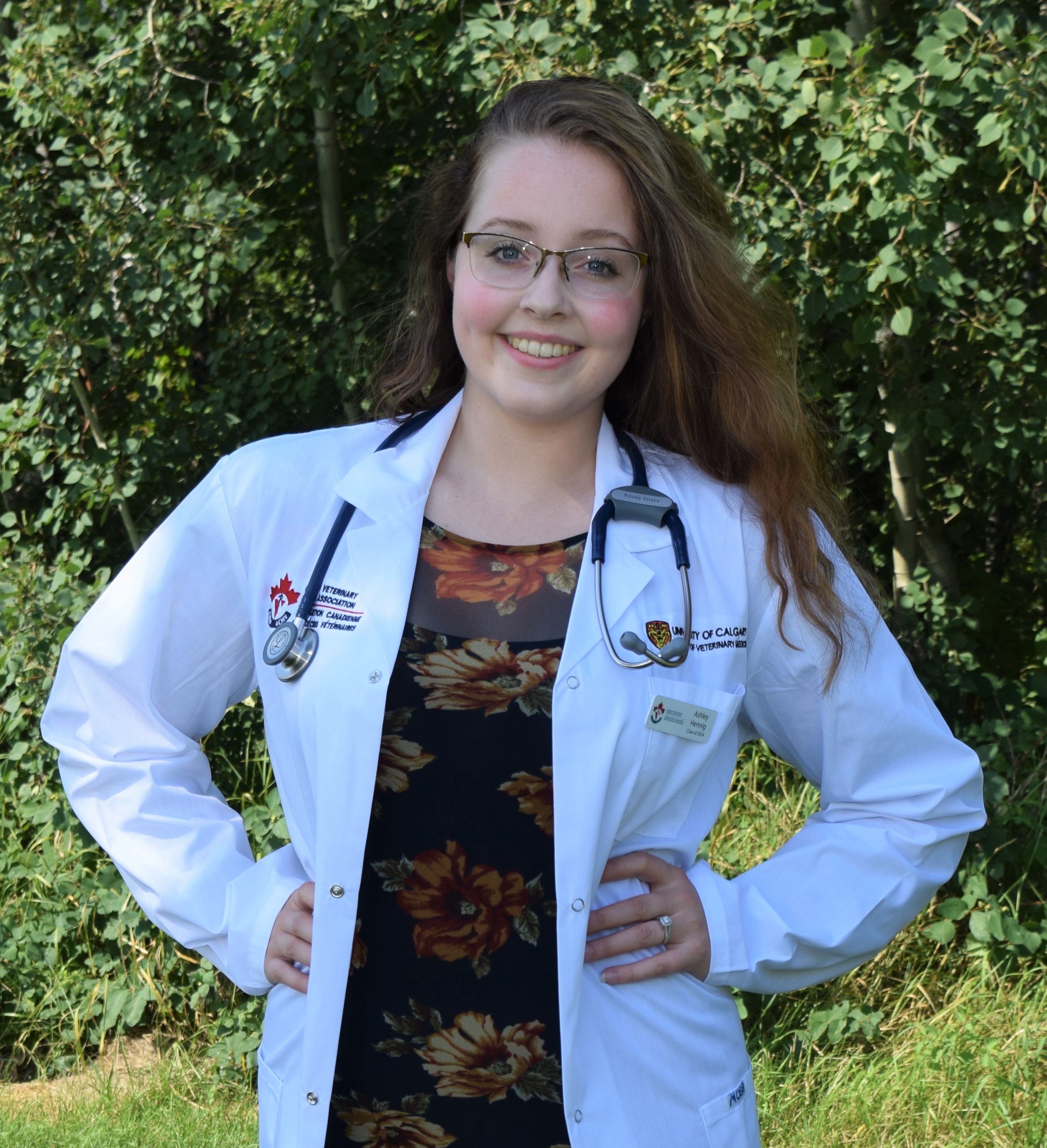 Ashley Finch
Ashley Finch grew up in Edmonton, Alberta and is currently in her 3rd year of studies at the University of Calgary — Faculty of Veterinary Medicine (UCVM).
She started her journey into veterinary medicine in high school working for a local small-animal practice. In her free time, Ashley joined the administrative team of an animal rescue with the small mammals and exotics division where her passion for exotics and pocket pets flourished.
She has continued to be an active animal rescue volunteer for the past 7 years taking part in animal fostering, public outreach, and school education programs. Ashley is excited to experience and contribute to the evolution and growth of exotic medicine.
Ashley started her studies with a BSc in Animal Health at the University of Alberta before moving to Calgary to pursue veterinary medicine. At UCVM, Ashley took on the role of Vice President and now Class President for the Class of 2024; she values this role as it is a way to advocate for positive change and helps support her classmates in voicing their suggestions and concerns. While exploring her passion for emergency medicine, Ashley became treasurer for the SVECCS (Student Veterinary Emergency & Critical Care Society) club. Throughout her education, Ashley has continued to pursue her interest in emergency medicine and works as a surgery technician assistant.
In her free time, Ashley loves to spend time at the barn with her Warmblood horse, Ice. After graduation, she hopes to pursue a small animal rotating internship and will continue to be an active member of the rescue community.
Charlie Wyatt-Swain
Charlie Wyatt-Swain is a 4th year vet student at the Western College of Veterinary Medicine (WCVM). She currently lives in Saskatoon, Saskatchewan with her husband, their daughter, and their dog. Charlie is Inuit-Metis from the NunatuKavut community in Labrador and is particularly interested in how we can better assist remote Indigenous communities in regard to veterinary services and dog management. She enjoys working with organizations such as Canine Action Project to promote healthy dogs and healthy communities.
Charlie has many roles at the WCVM including being Co-President/Co-Founder of WCVM DIVERSE, C/O 2023 Indigenous Representative, and WCVM Committee on Indigenous Engagement Student Representative. Her work has led to receiving awards such as the Diversity, Equity and Inclusion (DEI) Rising Leader Award from the Multicultural Veterinary Medical Association — MCVMA, an international organization that supports diversity within the veterinary profes-sion. She is also involved in organizing events at the college such as Ribbon Tying Ceremonies to share support for Truth and Reconciliation and hosting panels such as "Indigenous Animal Welfare: Understanding the Rez Dog."
In addition, Charlie is currently involved in a research project led by WCVM Professor, Clinical Associate, and PhD candidate Dr. Jordan Woodsworth, focusing on dog management strategies for remote Indigenous communities within Saskatchewan.