The Students of the CVMA (SCVMA) Committee is an integral part of the CVMA that delivers various SCVMA-led initiatives throughout the school year. The SCVMA-led initiatives are designed to engage and inform students to help foster relationships and bridge the gap between the CVMA, CVMA Council and their respective college.
The SCVMA Committee is comprised of one elected Senior Representative from each Canadian veterinary college and is supported by an elected Junior Representative and a faculty member who is a member of the Student Liaison Advisory Group.
All representatives begin their one-year term during the annual CVMA Convention in July. The Junior Representative will automatically become the Senior Representative the following year.
Get to Know the Incoming Senior Representatives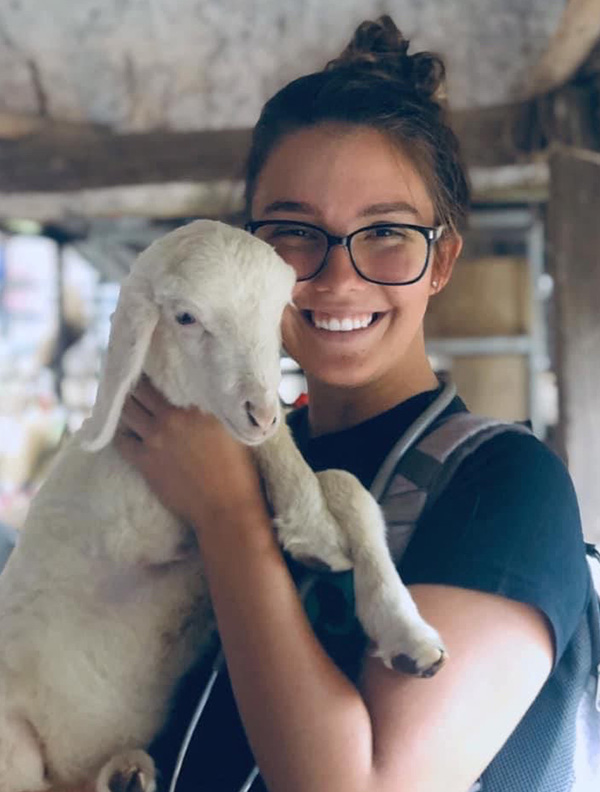 Lindsay Gallant, a 2nd-year student at the Atlantic Veterinary College (AVC) is a born and raised French Acadian Prince Edward Islander. Growing up in a province that thrives on agriculture, she surrounded herself with animals at any chance she could get. As a teenager, she volunteered at local animal clinics and farms. Her love for animals only grew during her post-secondary education, when she studied bio-veterinary sciences and aquaculture at Dalhousie University's Agricultural Campus in Nova Scotia.
In her 3rd year of undergraduate studies, she wanted to learn more about veterinary medicine in another country. She got accepted in a program with Loop Abroad and spent a semester in Thailand working alongside elephant and aquatic veterinarians. While there, she also volunteered at high-volume spay and neuter clinics. During her time overseas, she uncovered a deep love for marine mammals and was able to complete her advanced scuba training. This experience allowed her to contribute to global research projects of tracking and protecting sharks and sea turtles that are native to Thailand.
Lindsay is an active member of both the community and at her school. In addition to her work with the SCVMA, she is the Senior Representative of the aquatics club for AVC and a representative for the VCA. She also loves spending most early mornings and evenings working at a local dairy and poultry farm.
Outside of her veterinary commitments, she can usually be found on an adventure with her 4-year-old rescue dog, Taco.
She is ecstatic to be a part of the SCVMA team. Collaborating with vet students from across the country has been a highlight of her schooling so far. She is truly honored to be the chair for this year's SCVMA symposium, with the anticipation that it will be the first held in-person since before the pandemic.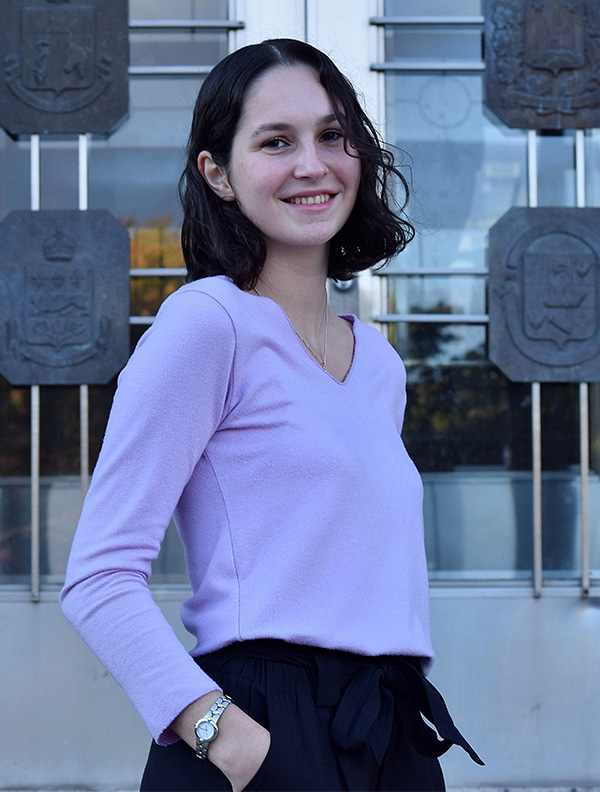 Adalaïs Gibert is a veterinary student at the Faculte de medecine vétérinaire (FMV) born and raised in Montreal, Quebec. Her family coming from rural mountainous area in the Pre-Alps of South-East France, she was frequently in contact with all sorts of animals growing up, although she did not have her own pets at home. She acquired a particular interest in animals that never left throughout her school years and led to her entry in the veterinary medicine program at FMV.
Wanting to expose herself to various fields of the profession, she worked as a technical assistant in the Equine hospital of the Centre Hospitalier Universitaire Vétérinaire (CHUV) during her first year and then started working as a technician during her 2nd year in a bird and exotic animals veterinary clinic in Montreal. With the same mindset, she tried to get involved in veterinary research at the end of her 2nd year. This led her to start a DMV-MSc program at the FMV, combining the DVM studies with a Master of Veterinary Sciences.
When first starting at FMV, she took part in student life as a one of the student life delegates of her class and was involved in many projects ever since. At the beginning of her 3rd year, she wished to involve herself even more in her school community and became the Junior CVMA Representative for FMV, as well as an executive member of the Association of Veterinary Medicine Students of Quebec.
She is delighted to be a part of the SCVMA Committee, and to be able to represent the veterinary students of FMV this school year.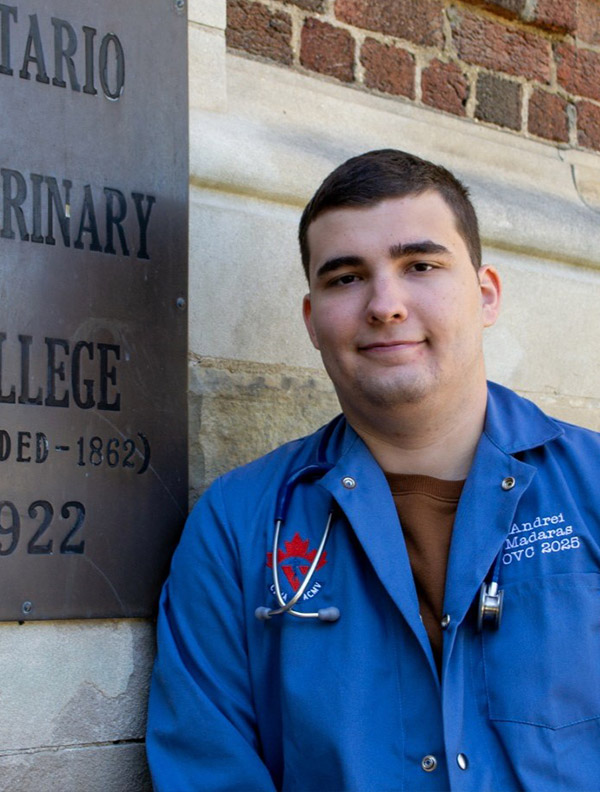 Andy Madaras, a veterinary student at the Ontario Veterinary College (OVC) grew up in Vaughan, Ontario and spent most of his summers in his home country of Romania. Numerous trips to visit family in the rural parts of the country spurred a lifelong interest in agricultural and rural animal care. He is passionate about comprehensive veterinary care that works with clients to meet the needs of their domestic and production animals.
Seeking to explore a curiosity in biology and chemistry he attended York University for Biochemistry. During this time, he worked in the service and veterinary industries to develop inter-personal skills and better understand the human-animal bond. Through his studies he worked with the Blood Donor Club at York and remains a strong advocate for blood donation programs. Clinically, he worked for 3 years as a veterinary assistant and played a major role in client communication and clinic technology support.
Since attending OVC he has expanded these interests as a member of many of OVC's clinical and special interest clubs. He also sits on the executive committee for the Parasitology and Business Clubs, as well as acts as an Academic Advisor for the Veterinary Fraternity. Over the summer he works in the university's Pathobiology department where he studies bovine respiratory disease in production cattle and works with graduate students to conduct post-mortem examinations.
In his spare time, he is an avid lover of board games and Formula 1.
Over the summer months, he enjoys motorcycles and commutes around the scenic backroads of southwestern Ontario on his bike.
Andy is proud to represent OVC as part of the SCVMA and is excited to bring more opportunities for skill development and networking to the students at the college.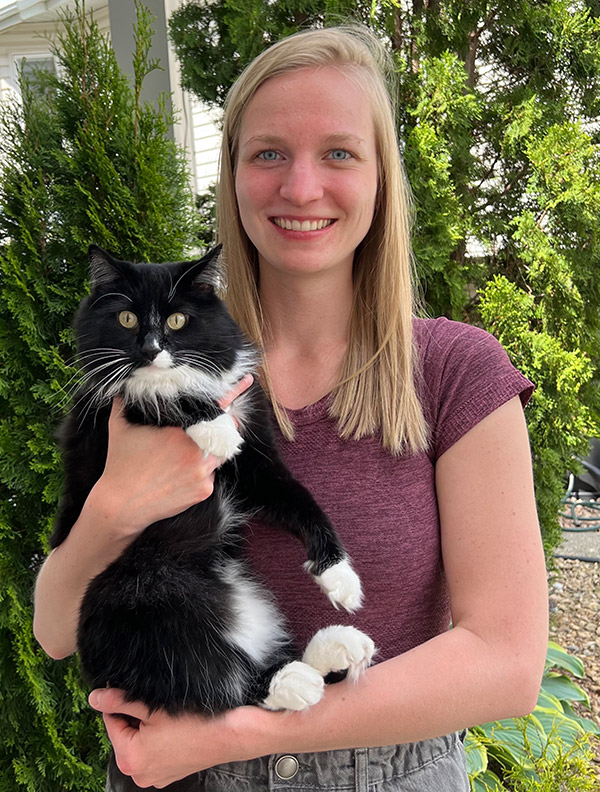 Allison Kwantes, a 3rd-year veterinary student at the University of Calgary - Faculty of Veterinary Medicine (UCVM) grew up just outside of Sherwood Park, Alberta. She has always loved animals and grew up having a variety of pets including guinea pigs, fish, rabbits, birds, dogs, and cats. Spending her early years on a rural acreage, she also fostered a love for nature and wildlife.
She discovered her desire to enter veterinary medicine after being an international Rotary exchange student for I year in France, then completing a Bachelor of Science at the Kings University in Edmonton, when she shortly thereafter applied to veterinary school.
Since her acceptance into UCVM class of 2024, she discovered and has had the opportunity to develop a keen interest in small ruminant health alongside her interest in wildlife health. She ultimately hopes to provide services for both groups of animals in a mixed animal practice after graduation. Allison enjoys collaboration with fellow students and maintains involvement in the UCVM community through groups such as the Honeybee Health Club.
In her free time, you can find Allison exploring new hikes in the mountains, playing frisbee, reading or playing board games with friends.
Allison is honored to serve as President on the SCVMA committee this year and is looking forward to working alongside her peers across Canada to raise the voice and profile of veterinary students entering the profession.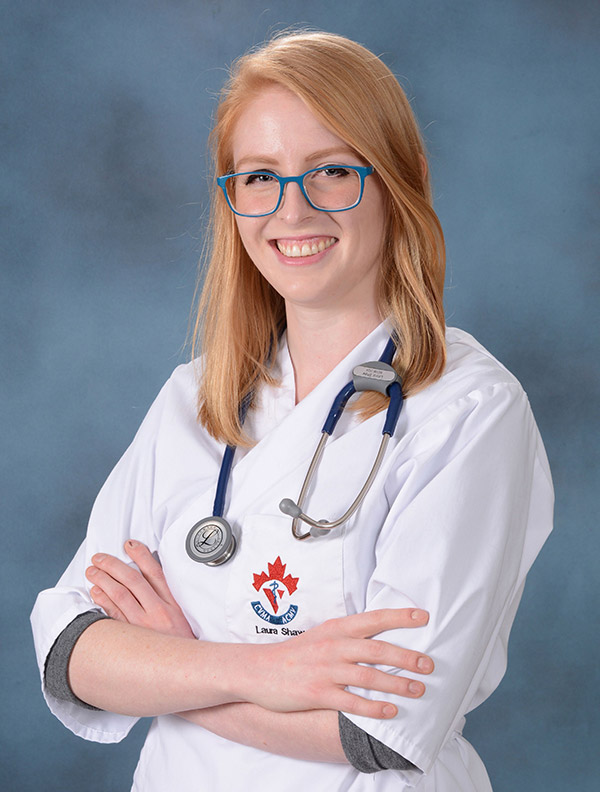 Laura Shaw is a veterinary student at the Western College of Veterinary Medicine (WCVM). Growing up on Vancouver Island, Laura developed a love of both animals and the environment. Pursuing this interest, she obtained a BSc (Hons) in Zoology at the University of Guelph in Ontario where she developed a passion for science communication and public education.
After graduation, Laura returned to Victoria, British Columbia and worked with her mother learning how to run a small business. During this time, she was able to complete an internship in wildlife rehabilitation. She later moved to Toronto, Ontario where she worked at an emergency and referral veterinary hospital. Here, Laura realized that the combination of client education, science, and positively impacting the lives of animals presented by veterinary medicine was a perfect flt.
Currently, Laura enjoys staying busy and participating in the opportunity to interact with many species presented at the WCVM.
Her hobbies include painting, writing, the outdoors, scuba diving, and woodworking. She enjoys learning about the various viewpoints and life experiences of her classmates and hopes to foster a positive and inclusive atmosphere in her future career as a veterinarian.
Laura is honored to represent the WCVM and is excited to learn from her fellow veterinary students across Canada.