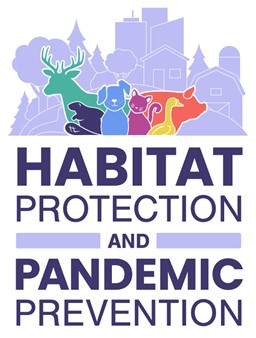 Animal Health Week (AHW) is an annual national public awareness campaign organized by the Canadian Veterinary Medical Association (CVMA) and hosted by veterinarians across Canada. Each year, through AHW, the veterinary community draws attention to an important health-related message.
From October 2–8, 2022, the CVMA celebrates our annual Animal Health Week by raising awareness about Habitat Protection and Pandemic Prevention – showcasing how animals, habitats, and human health are interdependent in creating healthy ecosystems which helps protect biosecurity. This year's theme displays how Canada's veterinary professionals occupy unique positions within the national One Health community in protecting animal health which, in turn, protects everyone's health.
The 2022 Animal Health Week campaign key messages are intended to educate the public about the importance of habitat protection:
Protecting the habitats of animals helps protect shared ecosystems and, in turn, helps safeguard human health.
Respecting animals in their natural environments helps deter the spread of disease to other animal species and humans.
Importation of exotic animals, and even improper movement of domestic animals, can introduce disease to local animals and people.
Encroaching upon wildlife habitats or entering commercial/farmed operations without following proper protocols can result in biosecurity breaches which can lead to dangerous outcomes for animals and people.
Protecting the environments of wildlife and all animals in your care is paramount in pandemic prevention.
Monitoring disease in wildlife, such as migrating birds, bats, and feral animals like pigs and dogs, can play an important role in future pandemic prevention.
2022 Animal Health Week Webinar with Dr. Scott Weese: Habitat Protection and Pandemic Prevention
Dr. Weese discusses how human driven changes such as climate change, urban expansion, movement of animals, movement of people, and expanding food animal agriculture affect disease risks, and how it relates to the notion that we are living in the 'pandemic era'.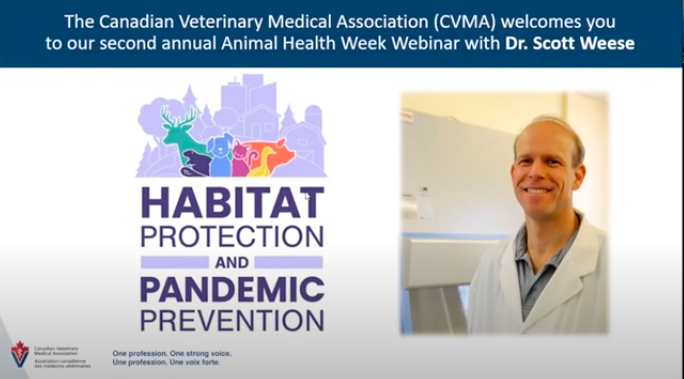 2022 AHW Poster
A free poster is included with August's issue of The Canadian Veterinary Journal and a second poster was mailed to veterinary practices nationwide. The CVMA is not selling merchandise this year, as we are transitioning Animal Health Week celebrations to an online awareness campaign only.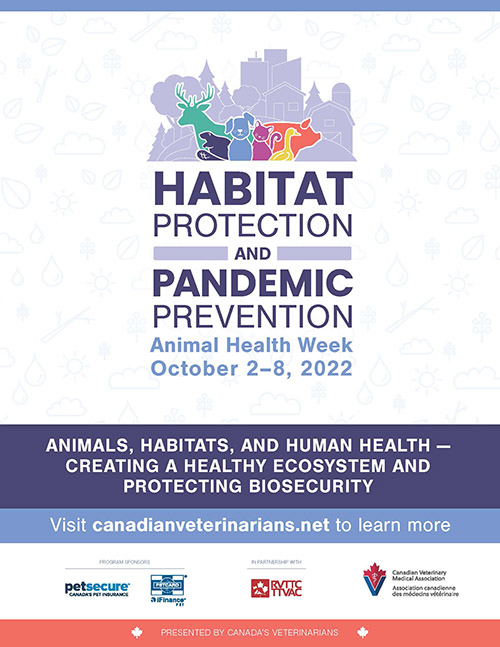 2022 AHW Social Media Campaign Toolkit
We created ready-to-share social media posts for you! Just copy & paste the content into your social media channel, download the embedded branded images & engage with your followers.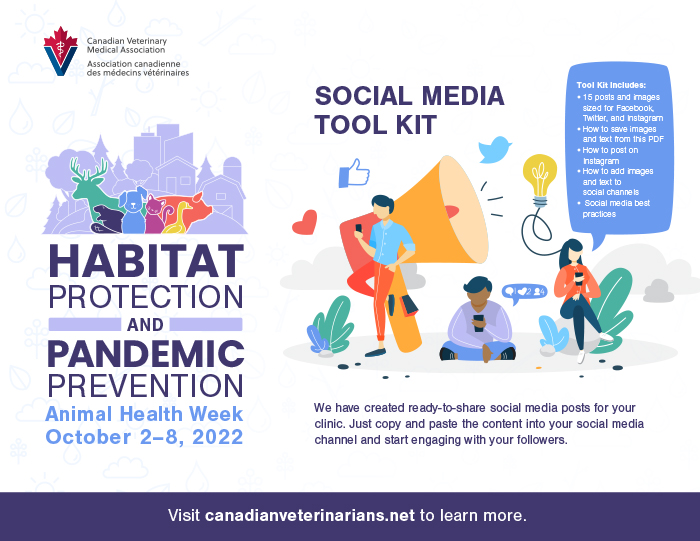 2022 AHW Video
The AHW video presents the 2022 AHW campaign's theme and was developed for veterinarians to share with clients and the public.
Support is Generously Provided By:
Related Links