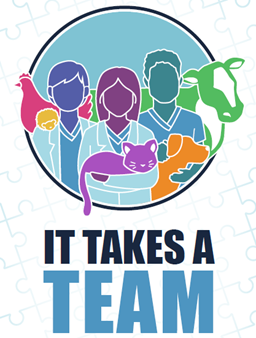 Animal Health Week (AHW) is an annual national public awareness campaign organized by the Canadian Veterinary Medical Association (CVMA) and hosted by veterinarians across Canada. Each year, through AHW, the veterinary community draws attention to an important health-related message.
From October 1–7, 2023, the CVMA celebrates our annual Animal Health Week by honouring those working in the industry who safeguard the health of animals each and every day – the entire veterinary team. This year's theme is It Takes a Team… To Protect Your Animal's Health and You. We will raise awareness about the importance of animal healthcare teams and the valuable role each team member plays in protecting your animals' health and wellness.
The 2023 Animal Health Week campaign key messages are intended to educate the public about the importance of the entire veterinary team.
Meet Your Team:
Veterinarians are medical professionals who are trained to protect the health of animals and people in contact with animals. Veterinarians can work with large and small animals to evaluate animals' health, diagnose and treat illnesses, provide routine preventive care, prescribe medication, and perform surgery. Veterinarians have completed a doctorate in veterinary medicine (DVM) and are licensed to provide medical and surgical care to animals.

Veterinarians also work in zoos, wildlife parks, or aquariums; focus on public health and regulatory medicine; enter academia or research; or pursue other animal related career paths.

Veterinary Technologists/Technicians are invaluable team members who directly assist veterinarians with medical and non-medical services in clinical practice. Veterinary technologists/technicians undergo extensive studies and training to assist veterinarians with surgery, laboratory procedures, radiography, anesthesiology, treatment and nursing care, and client education.
Veterinary Assistants support the veterinarian, the veterinary technologist/technician and/or the client with daily tasks. Assistants may be asked to perform kennel work, assist in the restraint and handling of animals, feed and exercise animals, or complete clerical duties.
Hospital Managers greatly improve the team's efficiency by overseeing the business operations of the practice. Depending upon the size and type of hospital/clinic, the manager's duties could include personnel hiring and supervision, budget and inventory management, accounting, marketing, and developing recordkeeping and other business standards for practice.
The Receptionist is usually the first person to welcome a client into the hospital and the last person the client sees before leaving. A skilled receptionist will address all client interactions with compassion, organize front desk tasks, handle a variety of client questions or requests, and efficiently coordinate appointment schedules.
Other Team Members may also include adoption counselors, grief counselors, social workers, administrative assistants, kennel or barn workers, and part-time volunteers.
Everyone plays an important role in assuring the health and well-being of animals and people who care for them.
"Animal Health Week is an opportunity to showcase the importance of veterinary medicine to our clients," says Dr. Louis Kwantes, CVMA Past-President. "It is a chance to have our animal healthcare team feel that we are a significant part of a larger profession, rather than a small group toiling on our own. Both of which advance the impact and significance of the veterinary profession."
2023 Animal Health Week Webinar with Becky Taylor, RVT: It Takes a Team... To Protect Your Animal's Health and You
In this session, Becky Taylor will discuss topics such as what if veterinary practices could look inward, to their current teams, and find ways to navigate the workforce crisis the veterinary profession is currently in? There may be some answers right inside your own doors. Taking a look at your current teams and the role of RVTs, and more.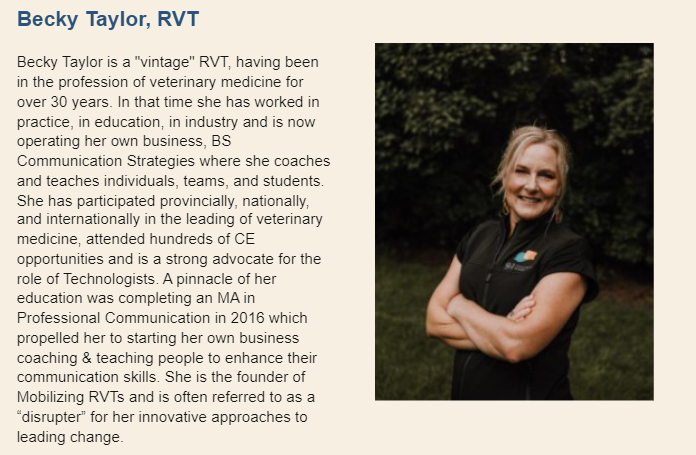 2023 AHW Poster
A free poster is included with June's issue of The Canadian Veterinary Journal and a second poster will be mailed to veterinary practices nationwide. The CVMA is not selling merchandise this year, as we are transitioning Animal Health Week celebrations to an online awareness campaign only.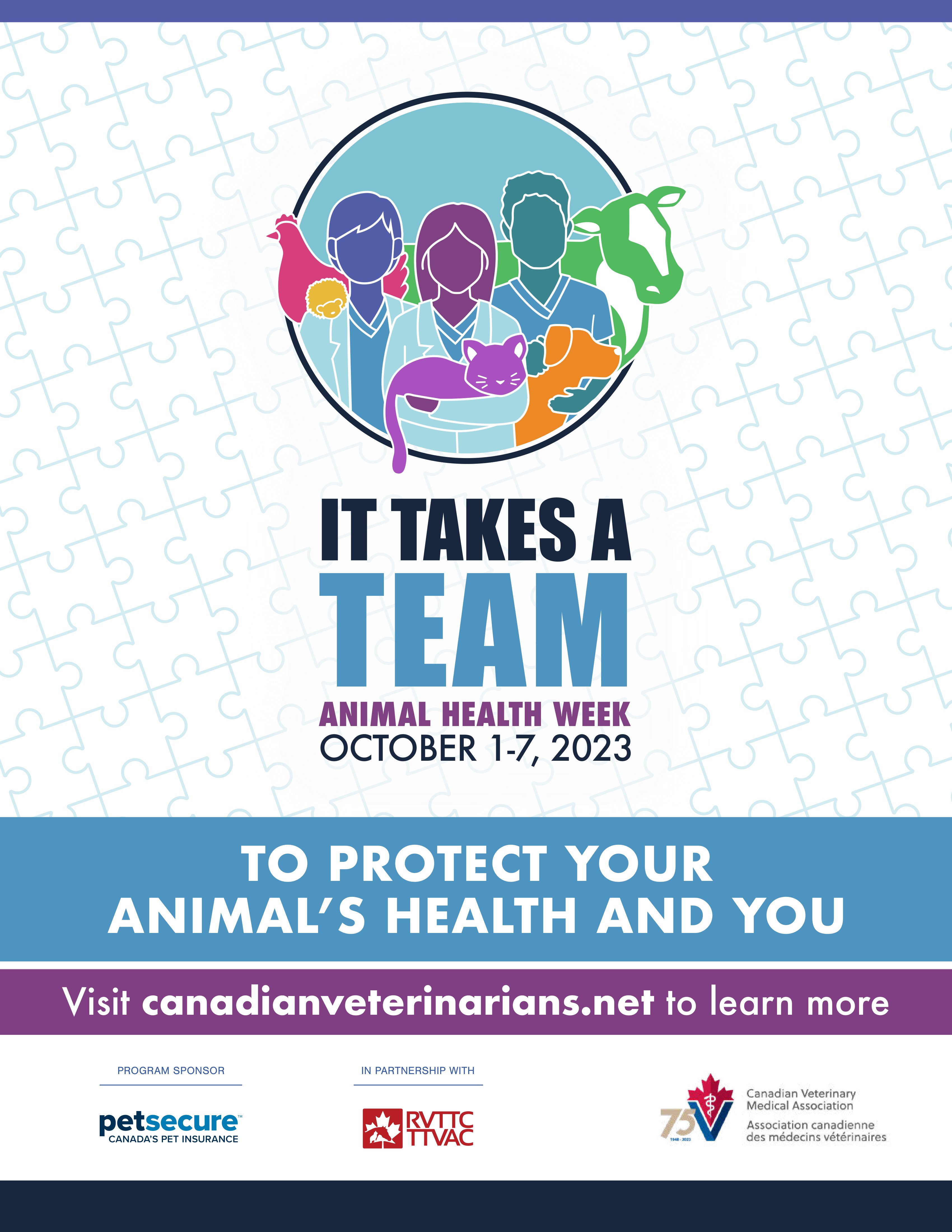 2023 AHW Social Media Campaign Toolkit
We created ready-to-share social media posts for you! Just copy & paste the content into your social media channel, download the embedded branded images & engage with your followers.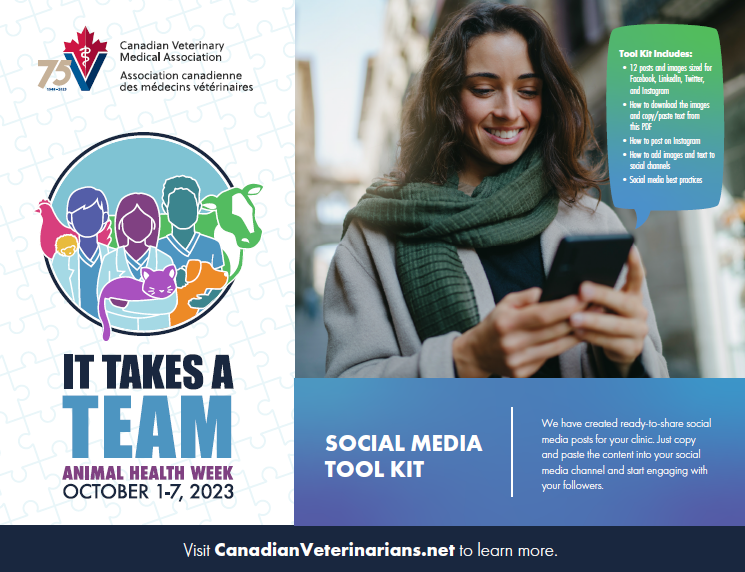 2023 AHW Video
The AHW video presents the 2023 AHW campaign's theme and was developed for veterinarians to share with clients and the public.
Tips to Help You Celebrate
We want to share some additional information to help you plan Animal Health Week celebrations. While these options range from simple to sophisticated, all help promote this important week!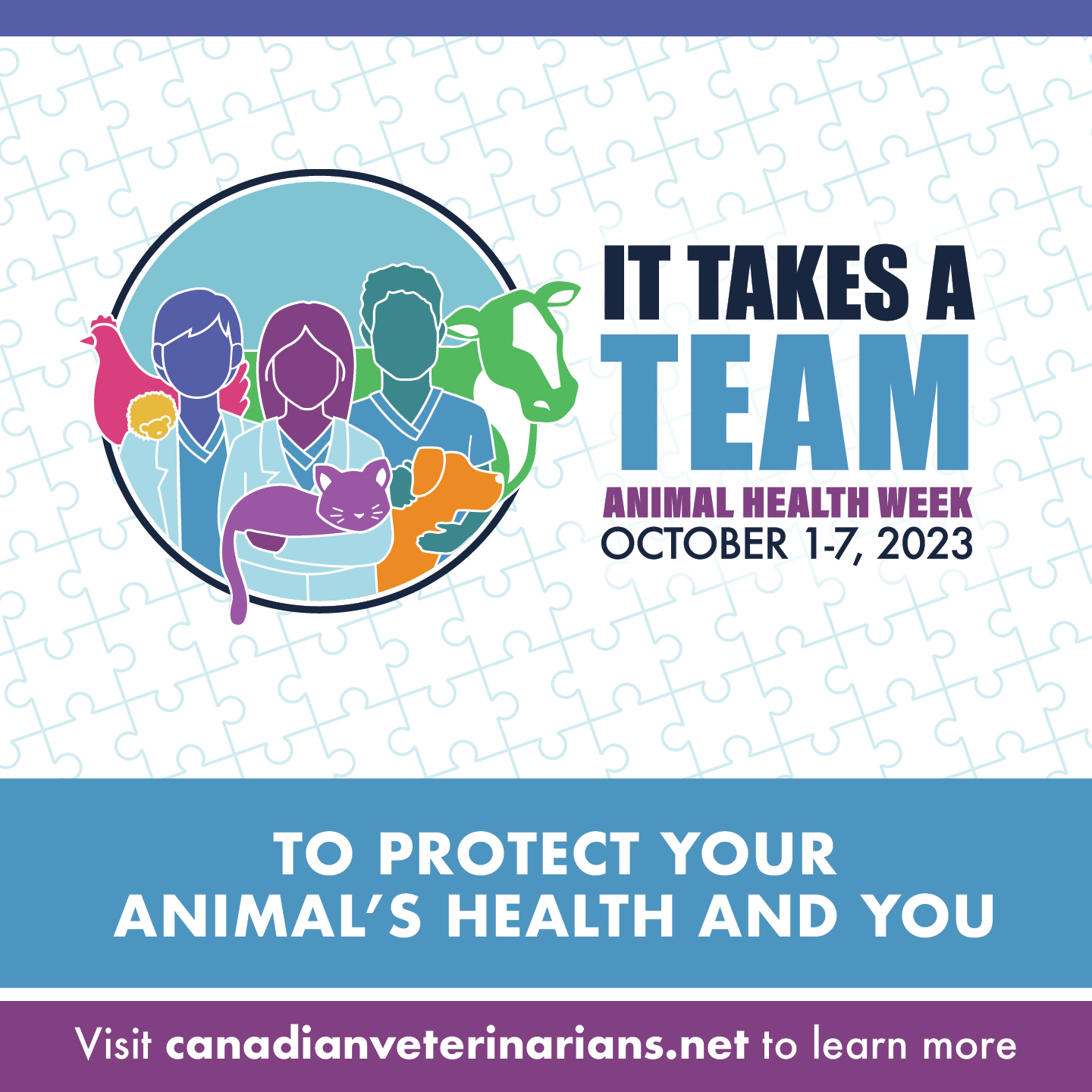 Support is Generously Provided By:
Related Links