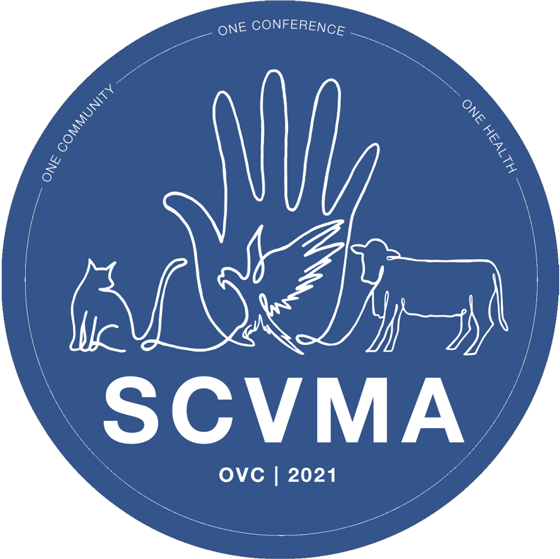 At the beginning of 2020, Peyton Tam, Symposium organizer, 3rd year OVC student, and senior SCVMA representative, had gathered a symposium committee to begin working on a traditional styled "in-person" conference with the intended venue of the Ontario Veterinary College.
Peyton and her team had envisioned and planned exciting social events and tours to proudly showcase their school to the rest of the Canadian veterinary students. However, SARS-CoV-2 had other plans... as Canada and indeed much of the world went into "lockdown" due to the COVID-19 pandemic, Peyton had a difficult decision to make, cancel the conference entirely or plan the first ever virtual SCVMA Symposium.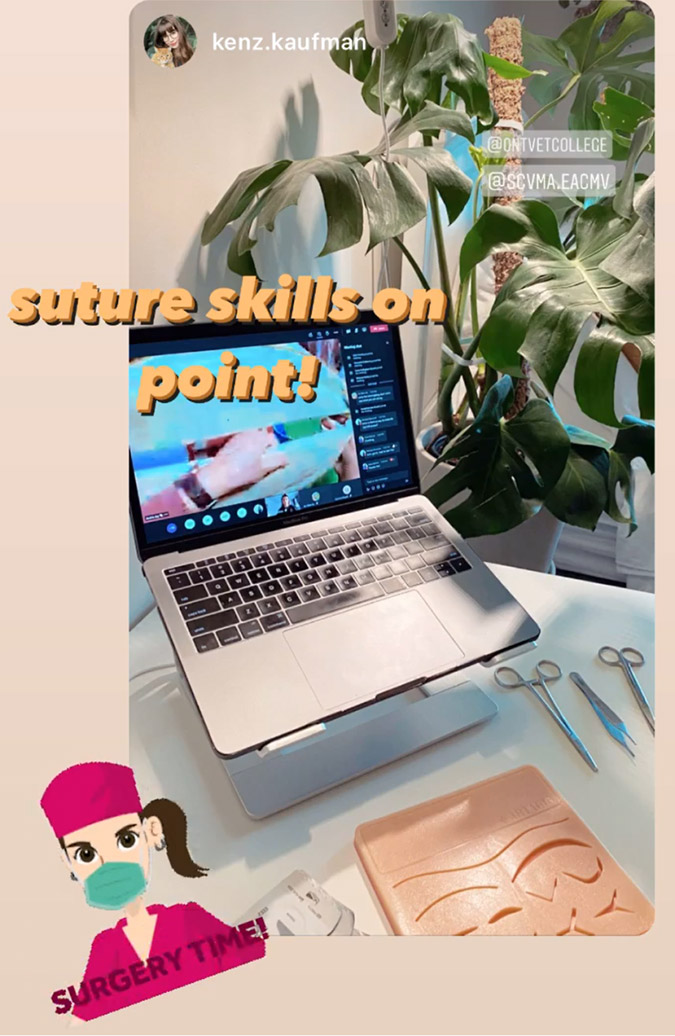 As we know, Peyton and her team boldly wiped the slate clean and planned a virtual conference. Over the next 8 months, Peyton and her team held many online meetings and learned how to use new and quickly evolving online platforms to host this large-scale event. Everything had to be altered. Normally, conference swag bags would be picked up in person, but this year Peyton and her team took on the challenge and shipped 300 conference "swag bags" to the 5 veterinary schools across the country. On January 15th, 2021, their hard work yielded the first ever virtual SCVMA Symposium and it was a smashing success!
The events started Thursday night with many students coming together for an online social night to mingle in breakout rooms and play online games. It was nice to socialize and meet new people because this was the first time many of us had had the opportunity to do so since COVID-19 restrictions shut things down. Across numerous time zones, the online lectures started very early for some and late afternoon for others. There were 21 lectures in total of which students could choose three to attend. The wide range of topics included exotic mammal emergency medicine, 3-D printing in vet med, and life hacks for new graduates, among many others. During lunch, Purina hosted a virtual meeting where students had a chance to ask questions concerning veterinary diets. Wet labs began after the lunch break and normally, all students would don their scrubs and lab coats before digging in. This year, the wet labs were completed from the comfort of home and filled with case studies, suture pattern practice, radiographic interpretations and tick identification. To finish the day, students were encouraged to get up and get active by joining one of the many fun virtual fitness classes such as Zumba, yoga, kickboxing or Pilates.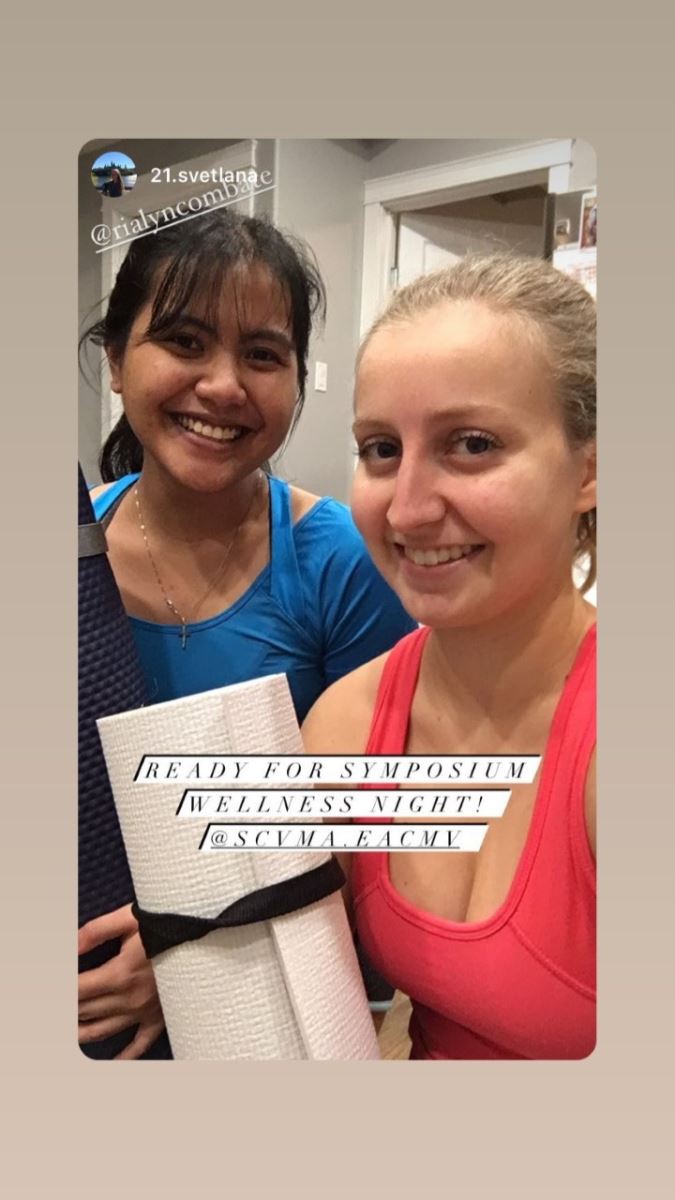 The next day started with short opening remarks by the CVMA President-Elect Dr. Louis Kwantes. Following Dr. Kwantes, Dr. Christina Tran, the Past President and Founding Board Member of the Multicultural Veterinary Medical Association (MCVMA) was the first keynote speaker. Dr. Tran spoke about how as vet students we need to reflect on our past, make deliberate and intentional actions in our present, and effectively plan for our future. She also touched on the lack of diversity, equity, and inclusion in our profession and one of the ways we can overcome this is by empowering younger generations to become veterinarians through outreach mentor programs such as League of Future VetaHumans and This Is How We "Role".
Dr. Tran's presentation was followed by Dr. Adam Little, Co-founder of GoFetch and Professor of Practice at Texas A&M College of Vet Medicine. He spoke about how leaps in technology are influencing and aiding the advancement of the veterinary profession and our current model of pet care. He explained client needs are quickly diversifying; therefore, embracing technology and programs such as PetDesk and Loom can help to elevate not only the quality-of-care vets can provide, but also the overall efficiency of the practice. The conference concluded with a few closing remarks from Peyton Tam showing appreciation to and thanking her organizing committee, the speakers, and the attendees for making this unique conference a success.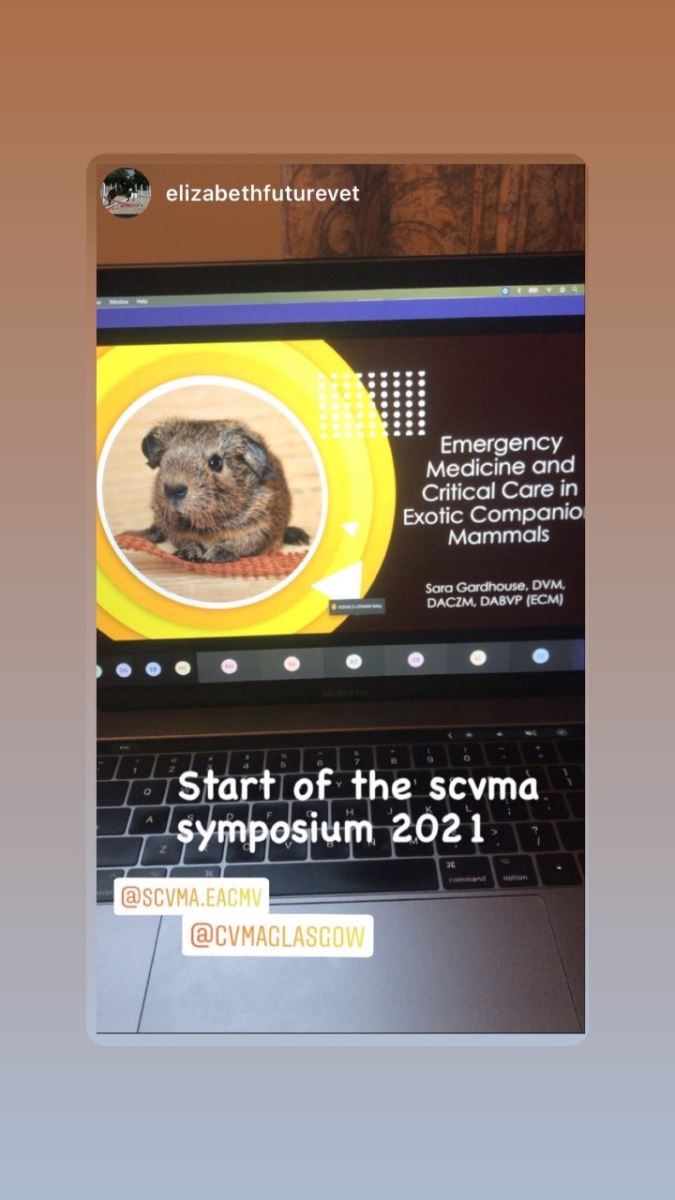 It was a tremendous accomplishment. While the pandemic detrimentally impacted the plans of what no doubt would have been a great "in-person" conference, there were several unique benefits to the pandemic's disruption of the normal conference procedures. One positive outcome is the online conferences are significantly cheaper to host than traditional conferences. As a result of the reduced cost and with the continued support of our amazing sponsors (National Veterinary Associates, Vivid insurance, Banfield Pet Hospital, Pro Concepts, Purina, CVMA, Hill's, OVMA, OVC Pet Trust and, Ward and Uptigrove), registration for this conference was offered to all Canadian Veterinary Students free of charge. Free registration and the luxury of staying at home with no travel costs, made this conference extremely accessible to every Canadian veterinary student who wanted to attend. As a result, the 2021 SCVMA Symposium had the highest attendance of any symposium- a total of 526 students! Of the 526 attendees, 30 were students from the CVMA International Affiliate Program (IAP) representing the University of Glasgow (Scotland), University of Edinburgh (Scotland) and, Massey University (New Zealand). This was only possible due to the online nature of the conference and the accessibility that it provided.
"One Conference, One Community, One Health" was the chosen theme for the 2021 SCVMA Symposium, and this theme could not have been more appropriate. Each of us had been going through many of the same struggles as our lives both in and out of school had been upended. The COVID-19 pandemic had a peculiar unifying effect on the Canadian veterinary student body and the 2021 SCVMA Symposium was the point of convergence where this became apparent to all. We realized that we are all going through the same things, and together we'll get through it. This discovery alone made it special and memorable.
The 2022 SCVMA Symposium will be held in Calgary, Alberta at the University of Calgary Faculty of Veterinary Medicine and we are looking forward to welcoming you all and building on the learnings and relationships that 2021's outstanding hosts delivered. If you are interested in learning more, please contact the CVMA (symposium@cvma-acvm.org).
- by Kelcey King, WCVM, Class of 2022